Prior to the COVID-19 pandemic, retailers in the United States were focused on remodeling their stores and improving the in-store experience for customers. Supposed retail experts and grocery analysts argued vociferously that the only way for retailers to be able to compete against Amazon, was by providing an immersive and inviting in-store experience.
When asked my opinion on the topic by the media, I replied, "I disagree."
I believed then, and I believe now, that what customers really want is increased speed and a simplified shopping experience. Specifically, I believe that the future of retail isn't shopping, it is retrieving and receiving the products desired, especially groceries, as fast and easy as possible.
This does not mean that retailers can or should ignore their stores. Retailers must provide consumers with a store format they find inviting and that meets their needs. And yes, an argument can be made that shopping isn't just a transactional experience, there is an emotional component to shopping. There is also data that indicates consumers enjoy shopping with others as a way of socializing while shopping.
However, consumers have access to so much content related to products available to them in stores and online through retail websites, Google, Facebook, Instagram and other social media, that having to physically set foot inside a retail store is no longer required. Consumers can feed their retail addictions and be stimulated by ads and content any time they choose. (This is why I believe consumers will embrace Virtual Reality (VR) for shopping in the coming years. Consumers will be able to "enter" a store, shop, immerse themselves and buy all the products they want from the comfort of their home.)
The importance of online shopping, ordering and delivery will continue to grow across all categories. However, I strongly recommend that retailers with physical stores increase the value of their stores through onsite fulfillment.
I wrote in a 2015 article,
"Grocery stores and other retailers, will operate more like large vending machines in the coming years as fulfillment becomes automated inside the store. Contrary to what retail experts claim, customers will not want to linger inside a store any longer than necessary. Consumers will migrate from shopping inside a store to instead buying online and picking up at a store, or buying online for home delivery. Speed to the customer and frictionless checkout is the future of retail."
The disruption created by the Coronavirus is having a severe impact on retailers and the retail industry, and it will be long-term. For example, prior to COVID-19, consumers had shifted away from malls and stores. This behavior will increase as consumers remain worried about crowds and will shun stores and malls even more. Consumers will also reassess what's important. The number of unemployed is increasing and will remain high for some time. Consumers will focus on buying essential items as discretionary income is limited. Fashion retailers will be severely impacted.
The Coronavirus is going to accelerate much of what I outline and recommend in this article for this reason – according to experts, COVID-19 could become a 'seasonal illness.' Are we going to shut down all retail and experience the 'Bullwhip Effect' every time a bout of the Coronavirus strikes to prevent infections and death? If so, we need to have an ecosystem of stores, online ordering, fulfillment, last mile delivery and supply chains that can execute flawlessly under any conditions.
What's certain is this – the status quo cannot remain. Retailers must transform.
Disrupting the Supply Chain 
The image that stands out the most in the minds of consumers currently experiencing the impact of the Coronavirus on American society and the economy, is walking into grocery stores only to find empty shelves. Every consumable product including fresh fruits and vegetables, meat, milk, eggs, dairy products and baked goods immediately sold out. (What's interesting is that the products I listed generate 80% of sales at grocery retailers.) Canned goods and frozen food also sold out quickly along with cleaning supplies.
The biggest surprise to retailers was consumers stocking up on toilet paper. According to the media, consumers were "hoarding" toilet paper for fear of running out. Shelves without toilet paper gave the impression that the toilet paper supply chain was somehow broken. It isn't.
Toilet paper ran out because most working adults work at an office and not at home. When they have to go to the bathroom during the day, they use the bathroom facilities where they work. Shelter in Place and 'work from home' resulted in consumers having to use their own bathrooms, and this required buying more toilet paper. In other words, consumers weren't hoarding toilet paper, they truly had no choice but to buy more toilet paper for their own use.
Grocery retailers and paper companies are used to even demand for toilet paper. When consumers shifted their buying habits, available toilet paper inventory was quickly depleted. Paper companies have increased production to reduce manufacturing toilet paper for businesses and have increased production of toilet paper for consumers.
In addition to toilet paper, more food was purchased not because consumers were hoarding but because more adults and their children have to stay at home. Instead of kids eating breakfast and lunch at school, and adults eating breakfast or lunch at work, all meals are now being consumed in the home and this requires purchasing more food.
Grocery retailers are learning a painful lesson – their supply chains are not as resilient as they believed, and in order to meet customer demand, changes have to be made across their supply chains.
Micro-fulfillment: The Next Big Thing
Like many buzzwords, the term "micro-fulfillment" can be confusing to some people. Simply stated, a micro-fulfillment center (MFC) is the combination of software and technology that is capable of leveraging robotics and shuttles to automatically fulfill online grocery orders or assemble Click and Collect orders for pickup at a store. An MFC is not a dark store whereby associates manually pick items off shelves and place them in a cart. However, an MFC can be placed inside a dark store to automate grocery fulfillment.
In the context of this article, I want the reader to understand that a micro-fulfillment center performs in a manner similar to that of a vending machine. However, instead of dispensing candy, the MFC dispenses the items carried and sold in retail stores. Shoes, apparel, jewelry, handbags, food, groceries, sporting goods, automotive parts, beauty products and every other product stocked and sold in retail stores, can automatically be picked and fulfilled to the customer via an MFC.
I believe in the value of MFCs and in 2013, I wrote a research paper titled A Beautiful way to Save Woolworths, whereby I designed a grocery store for Amazon that included placing an MFC in the back room of a store or in the ceiling of a store, to fulfill grocery orders. (Amazon is building stores with MFCs inside just as I designed in my paper.)
Today, I am recognized as a leading expert on the topic of MFC technology and operations, and I am a champion of system integrators like Bastian Solutions, Swisslog, Element Logic, and many others.
Consulting firms and analysts that work with MFC providers are in agreement that there is a wide disparity in the capabilities of each MFC offered on the market. I coined the term MFC 1.0 and MFC 2.0 to describe startup 1.0 companies with limited capabilities like Fabric and TakeOff. Dematic has experience in fulfillment but their MFC solution is very new and untested.
Alert Innovation that makes the Alphabot, and who has a relationship with Walmart, is an exceptional exceptional company and arguably is the leading MFC on the market. Alert Innovation is a 2.0 MFC company due to the maturity and capability of their software and overall solution.
In addition to Alert Innovation, I recommend Berkshire Grey, Addverb, Attabotics, Exotec, and AutoStore.
Receive and Retrieve
The key takeaway from the COVID-19 crisis is this – retailers, and especially grocery retailers, have been confronted with the reality that their business models are more vulnerable than they realized. Social distancing has failed to prevent the spread of the disease inside stores, warehouses and large fulfillment centers where hundreds and even thousands of workers are required.
Had the virus impacted more young adults instead of the elderly, the entire supply chain for food and other retail products could have shut down. If the food and grocery retail supply chain is ever disrupted to the point where food cannot be received, and groceries can't be sold in stores or online, mass chaos will result as there is no alternative consumers can turn to. This is the new reality for retailers.
We are also witnessing massive layoffs as retail stores are either forced to close because of government mandates, or customer traffic is so low in the stores that there is no need to maintain full staffing. The loss of jobs is so great that I estimate it will hasten the U.S. into a recession.
There will be a large number of bankruptcies but I strongly recommend that the government does nothing to try and rescue retailers. The cold hard truth is that many retailers like JC Penney, Kohl's, Sears and Macy's to name a few, were in dire straits before the Coronavirus. Rescuing retailers will only prolong the inevitable. It makes much more sense economically to put the bad retailers out of their misery and to "thin the retail herd" as much as possible.
Does this mean that we could be looking at a future where only a few large, healthy retailers exist like Amazon, Walmart, Target and Aldi? Yes. I believe the tradeoff is worth it lest we continue to lose billions propping up weak retailers. Survival isn't mandatory for all retailers.
Will the U.S. experience another depression? It's certainly possible.
The Great Depression (1929 to 1941) and the financial crisis of 2008, was a time when most government and financial experts were unsure of the causes or what to do to correct the situation. Today, we know exactly what caused the current financial and employment distress in the country, the Coronavirus. We also know that within a few months, the disease will disappear or significantly be reduced. In other words, we know who the enemy is and we are actively engaged in battle. (One caveat – IF the Coronavirus doesn't disappear as experts think and we are faced with a situation whereby outbreaks occur randomly and frequently through 2020 and into 2021, it is plausible that the economy won't be able to rebound as many retail stores restaurants will remain closed. Worse, consumers will not spend, they will save. The economy operates best when consumers aren't afraid to spend money. The more that the economy contracts, the worse the impact. It's certain we're headed for a recession but a depression isn't out of the question).
Once a vaccine becomes available, the hysteria and concern around the Coronavirus will disappear and America and other countries will get back to work but there will be a large number of unemployed through 2020 and 2021.
The impact of COVID-19 has been so great that it is forcing retail CEOs to answer these questions:
How do we automate and achieve continuity of supply and fulfillment? What is our MFC strategy?
What robotics are available to minimize labor in our warehouses and fulfillment centers? How can leverage robotics and technology to accelerate execution across the supply chain?
What is the optimal strategy for our stores? Are our stores still relevant or do we need to create a new format? How do we minimize labor in our stores through robotics? How can we leverage our stores as distribution centers?
What new channels can we enter? For example, mobile retail?
The need for answering the questions I listed is real.
For example, I am on the Board of Advisors for an autonomous vehicle company called Robomart. Instead of hailing a car, consumers will soon be able to "hail a store." (I coined the phrase in this article about Robmart.) I am confident that many retailers, be they a grocery retailer or a company like Ulta Beauty or PepsiCo, will see the value in taking the store to the customer vs. continuing to only utilize online grocery ordering and delivery.
Micro-fulfillment will be the catalyst that changes the entire retail industry. Retail executives have watched as their stores closed and consumers have turned to Amazon in large numbers. Retailers have come to realize that it doesn't make sense to own stores only to operate them for 8 to 12 hours per day. Retailers have also come to realize that fulfilling online orders from large warehouses miles away from customers is the wrong strategy.
However, by installing an MFC inside a store, customers can place an order for a product they know is available at a specific store; the MFC will fulfill the order; and a mechanism will be available to allow the customer to drive up or walk up and retrieve the item(s) they ordered. Another option is to fulfill from the store and have a 3rd party deliver the product that was ordered direct to the customer.
Another interesting option is installing MFCs inside a convenience store or, creating a new convenience store model that consists of an AutoStore being the core of the store and customers either walking up or driving to the store to retrieve the products they order. Consumers can also have the products they order delivered.
7-Eleven, has the potential to leverage technology inside their stores to simplify restocking and also to fulfill orders thus allowing stores to act as automated fulfillment centers. If I ran 7-Eleven, I would invest heavily in technology that can be installed inside stores and built attached to stores to reimagine the business model. Convenience stores will not be able to hire enough people to work in their stores in the coming years. It is time to reimagine convenience stores and solve their problems through robotics.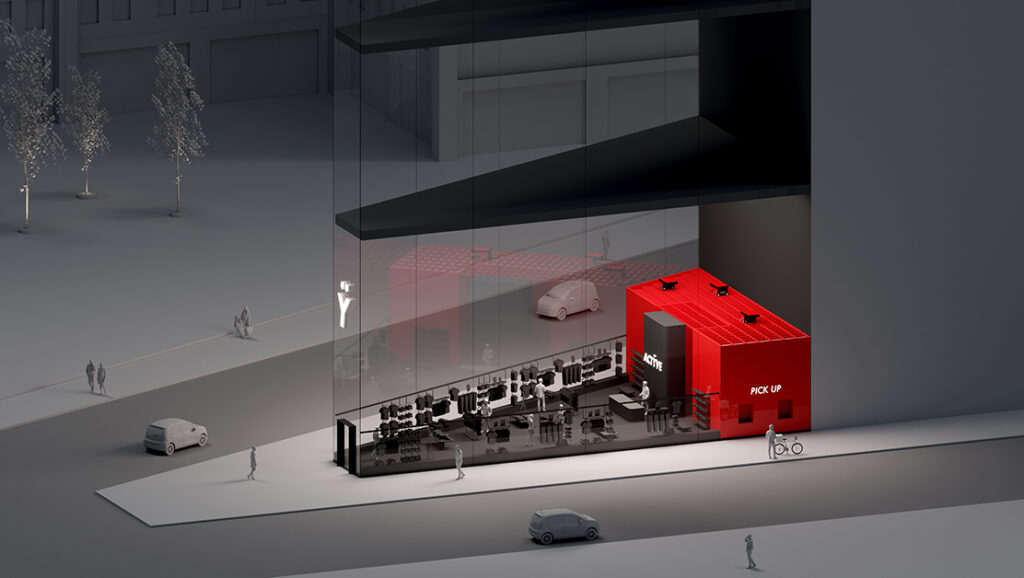 A diagram of an MFC inside a retail store. Customers can place an order online and pick up the item inside the store or customers can place an order 24/7 365 days per year, and can retrieve the items even when the store is closed. Like a vending machine, the AutoStore MFC can dispense any items to customers automatically. Installing an MFC greatly improves store profitability and increases customer experience. Imagine if every Target and Walmart (and other retailers) had this capability?
Installing MFCs inside grocery stores will drive the greatest amount of change in the grocery industry since the first grocery store, a Piggly Wiggly, was opened in 1916 in Memphis, TN.
The present model of having "pickers" roam aisles picking items off of shelves and placing them into grocery carts to fulfill online orders is arguably one of the worst business models in existence. In addition, as online grocery volumes increase, adding more pickers will only upset customers who are already complaining about having to navigate around pickers when they shop.
MFCs provide value as they allow grocery retailers to automate the grocery picking process. Some MFCs can house 90% of the SKUs sold online by most grocery retailers leaving only 10% of items like eggs and ice cream to be picked manually. This is a great savings in labor while accelerating speed to the customer.
However, the biggest value to a grocery retailers that install MFCs is that it allows grocers to do more with less and still meet customer demand.
MFCs are not just for physical grocery retailers. Instacart could radically change its business model and increase their growth potential if they open several hundred automated micro-fulfillment centers around the U.S. to enable their grocery retail customers to have access to automated micro-fulfillment. I anticipate that Instacart will make this a reality.
PepsiCo could leverage MFCs to open micro-fulfillment centers to sell their salty snacks and sodas direct to customers. Robomart vehicles could be loaded with PepsiCo products and travel through neighborhoods and areas with high population density. Consumers could use an app on their phone to hail a Robomart vehicle loaded with the products they want to purchase. When a Robomart runs low on products, it can be routed to the nearest micro-fulfillment center to quickly be replenished. I encourage PepsiCo to implement this model as it will give them a direct to customer channel.
Micro-fulfillment as a Solution (MaaS) will also become popular with retailers. I estimate that MaaS will become one of the fastest growing businesses throughout the 2020s as retailers choose to outsource their micro-fulfillment needs.
Micro-fulfillment will transform the retail industry.
Conclusion 
What's the future of retail? Go to the nearest vending machine, enter a dollar, make a selection and watch the product selected drop to the bottom of the machine ready for your immediate consumption. Instead of an actual vending machine, MFCs will perform the function of automatically picking and fulfilling orders to customers.
The entire purpose of retail seems to have been lost in the desire on the part of retailers to be innovative without understanding if their innovations will drive sales or add value to their customers. I remain convinced that far too many consultants and unqualified executives have hurt more than they have helped retailers.
In my view, retailing is two things: Marketing and logistics. Customers want the same thing they've always wanted since the earliest days of retail: Align people, processes and technology to improve the customer experience. Keep products in-stock and provide visibility to all inventory. If ordered online, deliver the right product to the right location at the right time and at the right price.
Retailers have to get beyond the notion that what consumers want is an immersive experience inside their stores. They don't. Consumers want the ability to easily engage with retailers and quickly find the products they want to purchase.
Retailers should embrace the strategies that I outlined regardless of the Coronavirus. Reducing labor needs through robotics; assuring continuity of supply and fulfillment 24/7, 365 days per year by installing MFCs and automating supply chains; and leveraging innovative vehicles like Robomart to offer customers a new channel, are sound business decisions.
I must also point out that crime statistics are increasing, especially for theft inside stores. Using the model I recommend will virtually eliminate all theft thus sparing retailers from lost revenue and the high cost of trying to make their stores safe. COVID will soon be a memory but rising crime is a reality. The choice is easy: Automate stores or go out of business as customers abandon shopping in stores that are unsafe.
The future of retail is robotics and automation. That's not my opinion. It's a fact.