COVID-19 has severely impacted the retail industry. Some retailers were forced to shut down as they were deemed as being non-essential but grocery retailers have thrived. Online grocery ordering and delivery has increased over 40% since the start of the COVID crisis, and the levels are expected to remain elevated even after COVID becomes a distant memory.
The challenge faced by grocery retailers is that the cost to fulfill and deliver groceries are exorbitant. Worse, the costs to fulfill online orders can't be scaled. For example, the cost to fulfill one online order is the same if fulfilling 1,000 online orders. On average, grocers that provide online grocery ordering and delivery lose an average of $7.00 to $11.00 on every order they deliver. The money is lost as a result of the cost of labor to fulfill, prepare and stage orders and the cost of delivery.
Without a better model, grocery retailers will continue to lose money.
Fortunately, there is a solution, micro-fulfillment; a topic I've written about in several articles. Leveraging micro-fulfillment center (MFC) technology from a company like AutoStore provides retailers with the ability to automate order picking, reduce costs and increase speed to customers.
MFC technology can also be utilized by companies like Instacart to innovate their retail business models and achieve a competitive advantage. However, utilizing MFC technology isn't enough. Instacart will require fulfillment centers capable of storing groceries and food across three temperature zones – ambient, chilled and frozen – and will require an orchestrated and robust last mile delivery service to meet the needs of their customers.
Instacart is actively evaluating and testing different strategies to grow market share and improve customer experience, but more needs to be done. My advice is this: Instacart should contact the USPS and evaluate a partnership. More on this later.
The Most Underutilized Company in the U.S. 
Most people when they think of the USPS, either think about the mail box in front of their house or the Post Office they visit when they need stamps. However, what's striking about the USPS is the sheer size of its reach and network:
31,322 Post Offices
811.8 million customer visits in 2019
$12.7B in revenue
2.6B USPS.Com visits
$301M in online sales
160 million delivery points
142.6 billion mail volume
1.34 billion miles traveled to deliver mail in 2019
21 highly automated mail processing plants
The USPS is also in significant financial trouble as mail and small package volumes continue to decrease reducing revenue. Excluding losses so far this year, the USPS last had a surplus in 2006. Since then, it has lost $77.8 billion. Congressional Democrats want to pass legislation that could give the USPS $10 billion of support now and $15 billion over the next several years. In the most recent quarter, the USPS lost $2.2 billion on $17.6 billion of revenue. For the first nine months of its fiscal year, it lost $7.4 billion on $54.8 billion. Revenue from mail services, the most profitable part of revenue has been hit by the spread of COVID-19 and a drop in "secular" mail services were the primary reasons for the large losses.
The management of the USPS has argued persuasively for years that its financial viability is severely damaged by payments that must be made to pension plans and retirement health plans. It cannot cut these benefits without congressional approval and Congress has not given that permission and is unlikely to do so. To some extent, the USPS has been dragged under financially in ways private sector companies would not be.
Benefits are not the only issue. In its last complete fiscal year, the USPS had 496,934 career employees. It has another 136,174 non-career employees. It has 31,322 USPS-managed retail post offices. Among the questions that have been asked, but never fully answered by the USPS or any large outside research organization, is whether this number of employees and this number of postal offices are needed to deliver mail in as timely a fashion as it has for decades. There have been attempts to measure how many post offices there need to be by population count. Others have looked at how many post offices are within five miles of one another.
Based on analysis I have conducted on the USPS, I believe there are many ways for the USPS to make money above and beyond the services they provide. For example, I would sell the naming rights of post offices and mail boxes. The methodology I recommend is the same strategy used by the NFL to sell the naming rights of the stadiums built by their teams. The football stadium built by the owner of the Dallas Cowboys is called AT&T Stadium as AT&T paid for the right to have their name prominently displayed on the stadium. The USPS could utilize a similar strategy to allow Amazon or some other company to place their name prominently on a post office or on mail boxes.
Another option that should be considered is for the USPS to lease post offices to retailers that want to turn the location into a small format mixed use retail store and post office. Retailers would be given permission to expand the locations at their costs and introduce new options like selling groceries or turning the location into a convenience store.
I believe solving the issues faced by the USPS can be resolved by doing the following:
Repeal the pre-funding mandate and use the accumulated reserves to fund future pay-as-you-go costs. The reserve now has about $47 billion on deposit.
Adopt generally accepted accounting principles (GAAP) to determine postal service liabilities. This is something nearly every for-profit business in this country is already doing.
Provide Medicare for future USPS retirees. This is precisely what military retirees are required to participate in.
Change the mandate of the USPS to include fulfillment and 3PL services. Allow the USPS to make acquisitions and form strategic partnerships.
Without the changes I outlined, the USPS will remain the most underutilized company in the U.S. The USPS will also continue to hemorrhage cash. It doesn't have to be this way.
At a Crossroads
Two companies are at a crossroads – Instacart and the USPS.
Instacart has experienced significant growth as a result of COVID-19, however, the growth isn't sustainable. As COVID-19 fades and becomes a distant memory, consumers will revert back to their old habits of shopping in stores. (Prior to COVID-19, only 3% of grocery sales were online. I estimate that when COVID ends, online sales will stabilize between 10% to 15% of all grocery sales).
Instacart is faced with another challenge – ambition. Don't get me wrong, ambition is a good thing. The challenge for Instacart is achieving their ambition. Here's why.
In order for Instacart to grow and achieve their full potential, the company must change their business model. Specifically, Instacart must design and implement a fulfillment model supported by a large number of strategically placed fulfillment, warehouses and micro-fulfillment centers located across the U.S capable of supporting operations across ambient, chilled and frozen products. With such a network in place, Instacart will be able to transform from an enabler of online grocery retail and delivery, to becoming an independent online grocery retailer.
In such a model, Instacart won't have to operate as a platform that enables online grocery transactions between consumers and their favorite grocery retailer. Instead, Instacart can offer their own groceries, including private label products, direct to consumers, bypassing their current grocery retail clients. In essence, Instacart becomes the brand. (It's plausible that Instacart will one day open their own Instacart branded stores in select locations).
The challenge for Instacart is that creating such a network is no easy task, and it's capital intensive.
If Instacart wants to maintain the current model whereby Instacart is a platform that enables online grocery transactions fulfilled and delivered by Instacart, they still need to change their business model. Instacart's customers (grocery retailers) do not have the capital or vision for creating a nationwide network of micro-fulfillment centers to automate fulfilling online grocery orders. Instacart, however, can with the right partnership and strategy.
I can't stress enough how valuable Instacart can become if they have the ability to leverage micro-fulfillment centers to automate fulfilling online grocery orders for its customers. The process of using Instacart pickers in stores to fulfill orders is a broken model and it has created a poor customer experience because of aisle crowding.
Instacart's grocery retailers can change their inventory process to deliver groceries direct to Instacart facilities utilizing a Just In Time model. This eliminates the need for Instacart to build or lease large warehouses.
In turn, Instacart can rapidly receive inventory; replenish the inventory inside the micro-fulfillment centers it uses; automate order picking and fulfillment; and deliver orders direct to customers. On average, using such a model will reduce the cost of fulfilling an online order by over 50%. In addition, it removes pickers from stores improving the in-store shopping process.
The Value of Thinking Big
In 2013, I wrote a research paper titled A Beautiful Way to Save Woolworths. In the paper, I argued that Amazon should acquire Whole Foods, and invest heavily in building a network of its own Amazon-branded stores consisting of different formats and using the most advanced fulfillment technology and robotics. I posted the paper on LinkedIn in 2016. The reaction? My recommendation that Amazon acquire Whole Foods and build its own stores was heavily criticized.
Amazon acquired Whole Foods in 2017, and is in the process of building its own stores. The stores are the most advanced in the world and include specialized micro-fulfillment centers and robotics.
In 2018, I wrote a series of articles stating that Amazon could acquire JC Penney, or some of its stores, and convert the stores to fulfillment centers. Additional stores could be converted to Amazon-branded grocery stores to increase traffic in the malls. The reaction? Most of the comments were negative with few believing Amazon would be interested in mall properties.
Amazon is currently in discussions with the Simon Property Group about acquiring JC Penney anchor stores and converting them to fulfillment centers and grocery stores with mixed-use retail to display apparel, shoes and other merchandise.
In July 2019, I wrote a post on LinkedIn where I argued that Walmart and Microsoft could partner to acquire Tik Tok. The idea was considered to be so outlandish, I don't believe I received a single comment in support of what I stated.
Walmart and Microsoft recently announced they are bidding to acquire Tik Tok. This article provides details around how I came to the conclusion that Walmart/Microsoft partnering could become a reality.
I've written multiple times since 2018 that Kohl's and Amazon should partner by opening Amazon-branded grocery stores inside each of Kohl's nearly 1,200 locations. This is a recent article where I again make the recommendation. On September 4th, 2020, Kohl's and Amazon announced a pilot to test Amazon grocery stores inside select Kohl's locations.
The moral of the story regarding the examples I've provided is that it is important to Think Big. Thinking Big encourages questioning the status quo, and reimagining a new future. I didn't have a Crystal Ball when I wrote the articles and LinkedIn posts referenced above. What I have is the ability to see things others do not because I'm willing to question everything and crush all assumptions that something can't be achieved.
Thinking Big at the USPS
My advice to the senior leaders at the USPS is to Think Big, and reimagine a better future for the USPS.
The USPS is going through one its most challenging periods. Mail and small package volumes delivered by the USPS are decreasing, while the cost of running the USPS continue to increase. The USPS is not a viable long-term business in its present form. It doesn't have to be this way.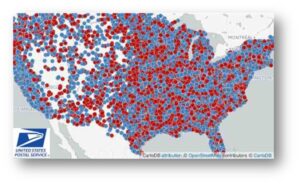 I envision a new USPS. A USPS with the potential to become one of the largest e-commerce fulfillment companies in the U.S. How? By doing the following:
Design a strategy and project plan for becoming an e-commerce fulfillment company
Write a six-page memo outlining the benefits to customers and the USPS
Conduct a logistics network assessment with the goal of identifying how many facilities can be consolidated to free up fulfillment and warehouse space
Conduct in-depth analysis to identify the exact square footage available for fulfillment throughout the USPS logistics network
Identify the required technology requirements to manage inbound transportation, inventory receiving, inventory management, fulfillment, labeling, packaging and last mile delivery
Identify the total number of facilities that are optimal locations to install micro-fulfillment centers from AutoStore
Identify which facilities are optimal for installing coolers and freezers and calculate the cost
Create the business case with all applicable financial information
Next, contact Instacart and review the USPS network and capabilities. Instacart will have requirements for cold chain hence the importance of identifying which USPS facilities are optimal for cold chain and the cost for purchasing and installing the coolers and freezers. Instacart will also be very interested in micro-fulfillment.
I'm confident that Instacart and the USPS can work together to create mutual value.
I encourage the USPS to accelerate discussions with Instacart. I believe Instacart will launch their IPO between October 1st, 2020 and December 31st, 2021. Once Instacart goes public, they will be in a hyper-growth mode. (In addition to grocery fulfillment, Instacart will morph into a logistics company and food/grocery distributor among other things).
I'm also confident that with the right strategy and vision, the USPS can become a leading e-commerce fulfillment company. However, in fairness to the USPS, asking them to become a fulfillment company won't happen without the right team. I strongly encourage the USPS to hire a team of e-commerce fulfillment, grocery and micro-fulfillment leaders with the skills and experience necessary to turn the vision into a reality.
However, a partnership with Instacart is only the beginning. With the right leadership, the USPS can fulfill orders for 3rd party sellers, retailers and brands. The USPS has the network and facilities. Now is the time for the USPS to heavily market its e-commerce fulfillment services. The future of the USPS isn't in mail and package delivery, its fulfillment as a service.