One of the most read and quoted books on military strategy and tactics is called The Art of War written by Sun Tzu, a Chinese general, philosopher, and military strategist. One of Sun Tzu's most famous observations is that "All warfare is based on deception." I like the quote and I agree with the majority of the strategies proposed by Tzu.
The quote could also have been written to state the following, "All business is based on deception." In fact, deception is a common practice in business. For example, Apple founder Steve Jobs hid the bugs that could have destroyed the reputation of the iPhone. To prepare for a demo of the iPhone in 2007, Jobs painstakingly identified how to demo the phone in a certain way that camouflaged all of the bugs. It worked. The demo was a massive success.
I believe we are witnessing another executive and company practice the art of deception in plain sight, Apoorva Mehta and the company he founded, Instacart. Here's why.
Instacart's 20-Year Game 
Apoorva Mehta legitimately deserves credit for recognizing the need for a company to fulfill online grocery orders and deliver them. Mehta worked very hard to get Instacart off the ground. However, many retail analysts recognize that Instacart not only benefitted from luck, but their growth can directly be traced to actions taken by others and events that haven't occurred for over 100 years.
If Amazon hadn't acquired Whole Foods, and if COVID hadn't appeared, I wouldn't be writing this article. The acquisition of Whole Foods by Amazon scared the majority of grocery executives into thinking Amazon would soon take their customers. Instacart benefitted from the panicked executives who contracted Instacart to provide online grocery fulfillment and delivery.
Prior to COVID, only 3% of grocery sales were online. When COVID arrived, the need for online grocery fulfillment and delivery exploded. To the credit of Instacart's executive team, they took full advantage of the opportunity to grow their business.
(Note: I continue to read articles or hear talking heads on news programs claim that COVID is a 'Black Swan' event. This is false. The shift to agrarian life 10,000 years ago created communities that made epidemics and pandemics possible. The Black Swan event wasn't COVID. The Black Swan event was that many countries voluntarily shut down their economies creating a global economic disaster).
Will Instacart continue to grow in a post-COVID world or will the luck run out? I believe Instacart will grow because Mehta and his executive team are already planning well into the future.
According to Mehta in a recent Forbes interview, he's "playing a 20-year game." Mehta also states that Instacart isn't trying to take away customers from the grocery retailers they serve, and that Instacart has no plans to "ever sell groceries directly." Is that true? Let's turn to Sun Tzu for guidance on how to answer the question:
"All warfare is based on deception. Hence, when we are able to attack, we must seem unable; when using our forces, we must appear inactive; when we are near, we must make the enemy believe we are far away; when far away, we must make him believe we are near."
If Mehta is playing a 20-year game, what then does the future hold for Instacart and it's customers? Are we honestly to believe that the Instacart of today will look very similar to the Instacart of 2040 except for better analytics? Mehta is being deceptive about Instacart's future; he has to.
I've written more articles about Instacart than any other writer. I also believe I've posted more articles about Instacart on LinkedIn than any other LinkedIn member. Based on my research and industry experience, I believe the following is what Instacart will and should do in the coming months and years.
Fulfillment By Instacart 
Since 2018, I've written that Instacart will go public in 2021 or 2022 at the latest. I believe 2021 is the year it will happen. However, I believe Instacart will struggle to accurately assess their growth and earnings potential as the pandemic significantly skewed their business. Grocery retailers pay Instacart an average 10% per order. In 2019, Instacart was losing $2.00 on every order they fulfilled. (Mehta claimed Instacart was profitable in 2019). In 2020, Instacart is grossing $3.00 per order. When COVID is tamed, which it will be, Instacart is going to again lose money or barely break even. Maintaining the status quo won't work. Based on my research, it appears that Instacart is already experiencing decreased volumes and revenue. This will delay an IPO from Instacart until late 2021 and may possibly push the IPO into 2022.
The future of Instacart is not having their Shoppers push carts up and down grocery aisles fulfilling orders. Instacart understands that the combination of Instacart Shoppers fulfilling orders and customers shopping for their groceries is crowding aisles and decreasing the store experience for customers. Grocers understand this hence the growth in micro-fulfillment centers being opened in Dark Stores, in back rooms of grocery stores, or installed in buildings attached to the side of a grocery store.
An MFC is robotic technology capable of picking individual grocery items to fulfill online grocery and curbside pickup orders. Leveraging automation to fulfill online orders significantly reduces costs for the retailer and increases the speed of deliveries to customers. This video outlines the purpose of an MFC.
Before continuing, I want to draw a distinction between MFCs and Customer Fulfillment Centers (CFC). MFCs can process around 1,000 orders per day. A CFC can process over 25,000 orders weekly. I am a former consultant and I recommended to Kroger to acquire Ocado and/or partner with them. Kroger partnered with the British retailer Ocado, to open large CFCs. I also recommended to Kroger to open micro-fulfillment centers. Kroger did not implement the micro-fulfillment strategy first and it has hurt the company.
The strategy I designed for Kroger allows the company to fulfill online grocery orders, assemble and fulfill Click and Collect orders, and also replenish to Kroger's stores using Ocado's CFCs. To be fair to Ocado,  I strongly recommended that they consider becoming a grocery retailer selling groceries direct to customers in the U.S., and in locations globally outside of the UK., instead of agreeing to a partnership with Kroger. I continue to believe Kroger made a mistake in not acquiring Ocado, and I believe Ocado made a mistake in not entering the U.S. to sell groceries direct through a partnership with Costco, Sysco, or a VC-backed strategy.
HEB, Albertsons, and Ahold Delhaize, are a few of the grocery retailers that have invested in building MFCs. Walmart is in the process of opening hundreds and eventually thousands of MFCs. Amazon is opening MFCs. I wrote several articles to provide detailed information on why grocery retailers should invest in micro-fulfillment. The articles are located here, here, and here.
This article outlines the best micro-fulfillment systems on the market.
I continue to believe that Instacart must invest in opening micro-fulfillment centers (MFC), and offer Micro-fulfillment as a Solution (MaaS) to their grocery customers. Grocery retailers, including customers of Instacart, are purchasing MFCs to automate online grocery and curbside pickup orders. Offering MaaS is a strategic imperative for Instacart as they are under threat of losing customers. Instacart continues to deny they have any interest in opening their own MFCs but a recent article in The Financial Times and a report by CNN, confirms that Instacart is exploring technology to open MFCs.
If Instacart chooses to open MFCs, they will have to start small and then scale the number of MFCs they require to meet customer demand nationwide. I estimate that Instacart will open between 6 to 12 MFCs in the first year and open as many 50 MFCs within two years. It takes on average 16 weeks to install an MFC and perfect the operations required to run an MFC. There aren't that many companies capable of installing MFCs, and most MFC companies to date have only installed a few MFCs. Instacart could eventually operate several hundred MFCs within their ecosystem.
The challenge for Instacart will be convincing their retail customers to outsource online grocery fulfillment to Instacart. I anticipate that Instacart will partner with Wegmans, Publix, or possibly Walmart, to open a test MFC to prove the concept works. Instacart has relationships with many different grocery clients who may be interested in taking part in a pilot. If Instacart can convince a few of their grocery customers to contract Instacart to automate the fulfillment of orders, it's possible that Instacart will be able to convince additional grocery customers to sign up for MaaS.
However, I'm not convinced that grocery retailers are going to want to outsource online grocery fulfillment to Instacart, when for nearly the same costs as outsourcing to Instacart, retailers can install their own MFCs or partner with another company to install and run MFCs like DaVinci Micro Fulfillment.
There are many companies Instacart can select to provide them with micro-fulfillment center technology. I rank AutoStore at the top of the list as being the best MFC solution on the market. For the record, I recommended to Instacart (and Albertsons) to evaluate the leading MFC companies on the market: AutoStore, Geek+, Attabotics, Alert Innovation, and Addverb. My preference is for Instacart and Albertsons to choose a solution from one of the companies I listed. However, I also recommended to Instacart and Albertsons to assess acquiring Fabric, and evaluating the grocery retailer and technology company, Urbx. Instacart should assess acquiring Urbx. I remain convinced that Instacart will partner with Fabric and possibly acquire Fabric at some point.
A word about Urbx. Urbx is the most advanced grocery retailer in the world, in my opinion. In addition, I believe Urbx can also operate as a micro-fulfillment company selling their technology to grocery retailers seeking a MFC solution for automating their online grocery orders and especially their curbside pickup orders. I anticipate that Urbx will generate a lot of interest from investors and retailers. I recommend Softbank to invest in Urbx. I can't be more bullish on Urbx until they build their first store and I can evaluate the operations and technology more closely.
Below is a picture of an Urbx vertical grocery store powered by their micro-fulfillment technology. Urbx stores also leverage drones as part of the delivery service. The drones are assigned orders and after making a delivery, return to the Urbx tower.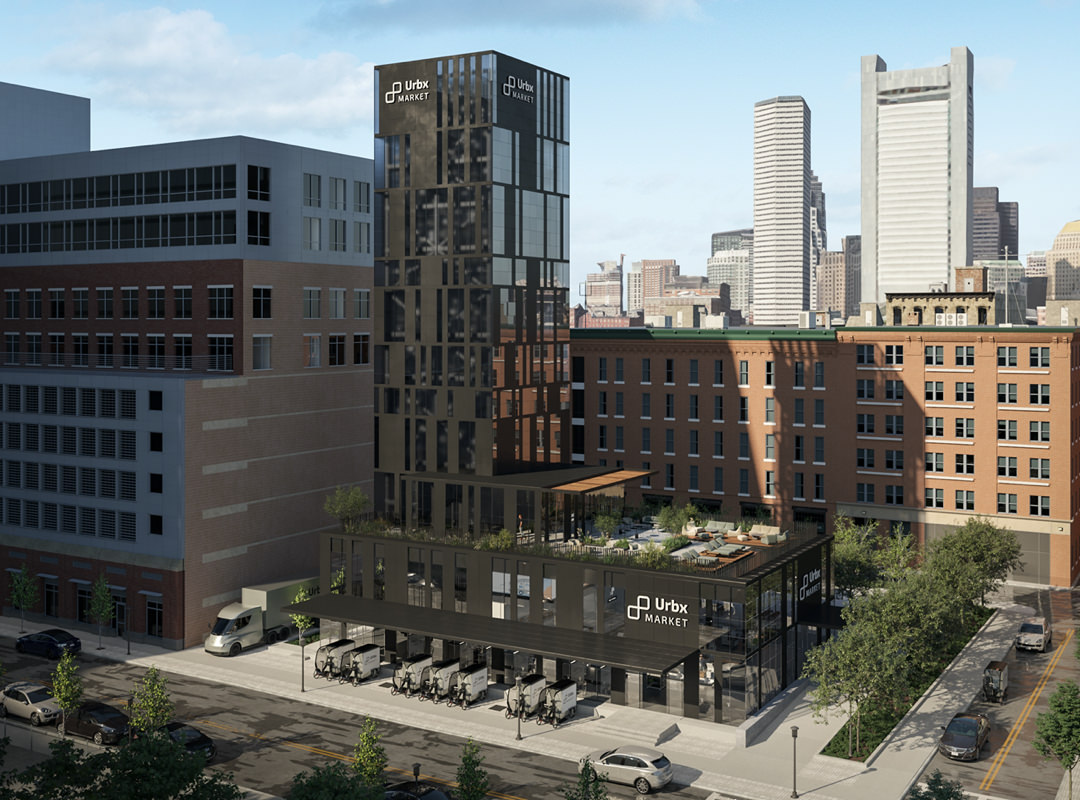 Micro-fulfillment centers will allow Instacart to remove grocery fulfillment from the stores of their retail customers and reduce costs. I've recommended this strategy several times to Instacart.
Instacart will be able to reduce the costs associated with fulfilling online and curbside pickup orders, and this will significantly increase Instacart's value to their grocery customers. Let me be clear – Instacart will only retain their grocery customers if they can continue to add value to their grocery customers. This is why I believe Mehta is being deceptive about the future plans of Instacart. Mehta understands that any of Instacart's customers could contract dunnhumby, for analytics and customer data science. Mehta understands that manually fulfilling online orders inside grocery stores is expensive, cumbersome and unsustainable. Mehta and Instacart must find a way to increase their value to their grocery customers.
Micro-fulfillment centers will allow Instacart to expand their business model. According to Mehta, he wants to expand Instacart beyond supermarkets and has signed deals with Sephora, Best Buy, and 7-Eleven. Opening micro-fulfillment centers will allow Instacart to fulfill online orders and replenish inventory rapidly to many different retailers, not just grocery retailers.
An interesting option that I have spoken and written about since 2018, is for Instacart to become a system integrator similar to Element Logic, Swisslog, Bastian Solutions, or PULSE Integration. A 'system integrator' is a company that combines different material handling systems, Micro-fulfillment Centers, warehouses, Customer Fulfillment Centers, racking, conveyors, AS/RS, Autonomous Mobile Robots (AMR), Automated Guided Vehicles (AGV), Robotic Palletizing, software and additional equipment and systems, to create optimal fulfillment solutions. Some system integrators, like PULSE Integration, also offer strategy and supply chain consulting, analytics, and data-driven robotic solutions. PULSE markets their company as, "The most valuable member of your engineering and logistics team."
Becoming a system integrator will allow Instacart to sell and install micro-fulfillment systems and software directly to their grocery and other retail customers. If Instacart becomes a systems integrator, it will forever be known as the "Pearl Harbor" moment of the material handling industry due to the shock and impact it will cause. Instacart becoming a system integrator will trigger a large amount of consolidation in the micro-fulfillment and material handling industries. (The best managed system integrators are already identifying strategic partners and making acquisitions).
Below is a picture of an AutoStore fulfillment system in the process of being installed by PULSE Integration.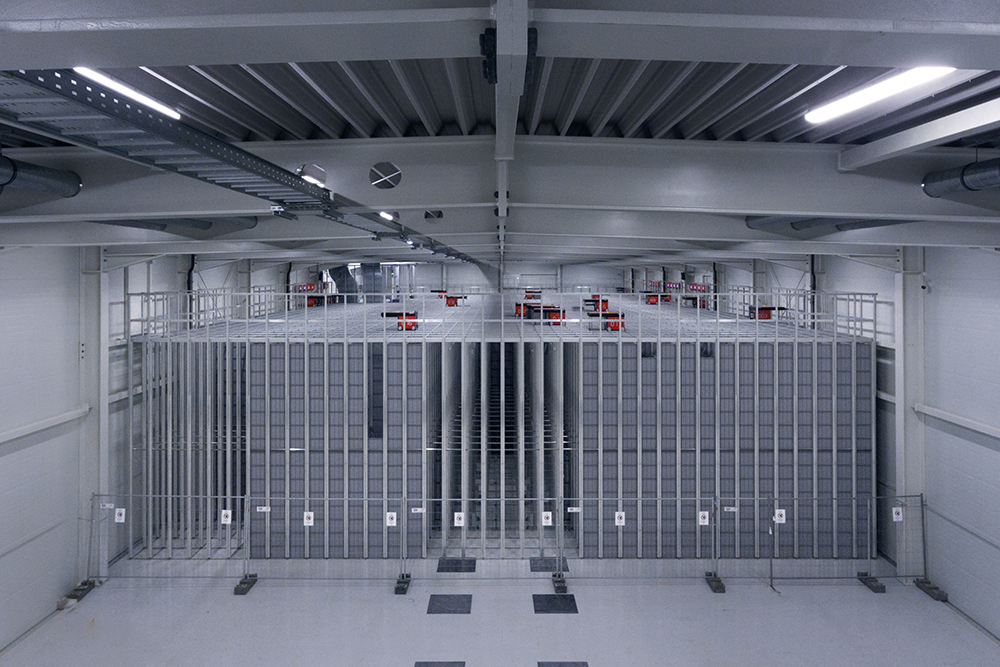 Instacart can easily become a system integrator by acquiring any of the leading system integrators on the market.
Based on past decisions made by Instacart, they will want to sign an exclusivity agreement with a provider of micro-fulfillment technology and software. After reviewing the leading MFC providers, I believe Fabric and Urbx are the only MFC companies that will be willing to sign an exclusivity agreement with Instacart. Exclusivity agreements can be strategic. For comparison, Kroger entered into an exclusivity agreement with Ocado in the U.S., that ensures only Kroger can utilize Ocado's technology.
If Instacart becomes a system integrator selling and installing Urbx's micro-fulfillment technology, or technology from another micro-fulfillment company like Fabric, I strongly encourage Instacart to offer their grocery customers a model similar to what Kroger has established with Ocado, only better. Instacart can create a much better fulfillment model for their grocery customers by leveraging fulfillment technology from Witron, AutoStore, Symbotic, and other vendors, to open large Customer Fulfillment Centers (CFC) capable of fulfilling 200,000 or more online grocery orders weekly. Ahold Delhaize recently entered into an agreement with AutoStore to open CFCs.
Instacart can create an integrated ecosystem of CFCs, MFCs and the stores of their grocery customers, to reduce costs and complexity, increase customer experience, and create a competitive advantage for Instacart. I believe Instacart will view becoming a system integrator as a way for them minimize the ability of other system integrators and micro-fulfillment companies to sell their micro-fulfillment technology directly to Instacart's grocery customers.
Sun Tzu would support Instacart becoming a system integrator, but is that enough? No. It isn't.
I anticipate that Instacart will invest heavily in creating a team of experts capable of helping Instacart become a leader in advertising. CPG companies that sell their products through the retailers served by Instacart, will be happy to leverage Instacart's platform for advertising. I strongly encourage Instacart to 'GO BIG' into advertising and even consider acquiring an advertising agency to expand into other categories.
But what if Instacart continues to loose grocery customers that choose not to outsource online grocery fulfillment to Instacart and instead, open their own MFCs or outsource to other companies? Will advertising be enough to make up for the lost revenue? Does it make sense strategically for Instacart to do nothing as customers abandon them? No.
So what's next for Instacart?
Instacart continues to deny that they want to become a grocery retailer competing against their grocery clients and instead, Instacart states that they want to enable and support the needs of their grocery clients. Is this true? Could Instacart have another strategy in mind? Let's turn to the quote below, "Attack him where he is unprepared, appear where you are not expected." What is the last thing grocery customers of Instacart expect? For Instacart to become a grocery retailer.
"If your enemy is secure at all points, be prepared for him. If he is in superior strength, evade him. If your opponent is temperamental, seek to irritate him. Pretend to be weak, that he may grow arrogant. If he is taking his ease, give him no rest. If his forces are united, separate them. Attack him where he is unprepared, appear where you are not expected." 
I've read comments from retail analysts who claim Instacart will "never become a grocery retailer" because it's a low-margin business. I understand the rationale for such comments. However, it is foolish to believe that Instacart will "never" become a grocery retailer. It's also foolish to believe that Instacart can't create a better retail experience than their grocery customers. I'm confident that Instacart will introduce their own private label products, expand into dark kitchens, and seek out ways to reimagine the grocery experience altogether. This will reduce costs and increase margins for Instacart.
I'm often asked how confident I am that Instacart can or will become a grocery retailer. I answer the question this way. I was the first person to argue that Instacart should invest in opening micro-fulfillment centers and become a system integrator. Not a single retail analyst came out in support of my argument. I will be proven correct that that Instacart will open micro-fulfillment centers because they have no choice. Under the right circumstances, Instacart will become a grocery retailer. I guarantee it.
If Instacart chooses to become an online retailer, they will easily convert customers from shopping at their favorite online retailers to shopping at Instacart. Why? Because Instacart owns the customer relationship. Instacart has pricing, supplier, operations, supply chain, and strategy data from hundreds of grocery customers. Instacart also has a list of customer names, email addresses, physical addresses and credit card data for millions of customers. Mehta recently stated that Instacart is "actively hiring dedicated Instacart analysts who will be embedded in retail partners' headquarters to support them." Data is everything to Instacart because it gives them information, and strategic options.
I warned grocery retailers in this 2018 article that if they contracted Instacart, they would be teaching an eventual Trojan Horse their strengths and weaknesses. I was right.
Being an online retailer won't be enough for Instacart to succeed – Instacart will need physical stores. Instacart is valued at over $40B. Instacart won't have to build their own stores, Instacart can easily acquire Kroger, Albertsons, or Ahold Delhaize. (Instacart could partner with Urbx or Alert Innovation, to open their own branded stores. Alert Innovation offers a unique store format called the Novastore).
Instacart won't have to guess what to do, they will leverage the mountain of data they've collected, and continue to collect, from their grocery customers. The data will identify exactly where Instacart must open stores to serve the needs of customers. Instacart branded grocery stores may become a reality even if Instacart acquires a major grocery retailer.
Gorillas In The Midst 
Instacart is going to face an extreme amount of pressure in the coming years. For two years, I've had discussions with Postmates, DoorDash and the other restaurant delivery companies, about their need to fulfill and deliver online groceries and also teach their grocery retail customers how to install dark kitchens and sell restaurant quality food direct to their customers. Micro-fulfillment is a major topic of discussion. Uber Postmates, DoorDash, Grubhub, etc., must invest in opening their own micro-fulfillment centers or partnering with a 3PL that can offer Micro-fulfillment as a Solution. Instacart is a frequent topic of discussion.
Instacart is also going to be pressured by the rise of 'Instant On-Demand' rapid grocery delivery companies like GoPuff, Fridge No More, Jokr, Dija, Getir, or possibly, Gorillas. I rank Gorillas at the top of the list. These companies can deliver groceries in as little as 10 minutes. How? By reducing the total number of SKUs they offer from the 40,000 to 50,000 products carried at most grocery retailers, to around 2,000 of the most essential items requested by consumers. The reduced number of SKU's increases picking and delivery speeds.
Instacart has focused on same-day deliveries since their inception. Now they must create the ability to deliver groceries and essential items in 30 minutes or less. This is easier said than done. Instacart doesn't have their own micro-fulfillment centers and the orders will continue to be fulfilled from the grocery and convenience stores they serve. Also, rapid delivery is a 'money loser' as most of the baskets will be small in terms of the number of products ordered and delivered.
It will be interesting to watch how this space evolves. My advice is for DoorDash and the other restaurant delivery companies to acquire or partner with the rapid delivery companies currently operating and accelerate opening MFCs and offering an alternative service to Instacart.
In addition, Instacart and the rapid delivery players, should evaluate acquiring Robomart. I coined the term, "Hail a store" to describe the fact that Robomart operates very similar to Uber. However, instead of hailing a store, consumers can hail a Robomart van (a mobile store) loaded with the essential items they love and want most. I believe the Robomart model would complement the rapid delivery models of Gorillas, Jokr, etc.
Instacart is also facing pressure from other competitors but they lag behind Instacart due to poor management and an even worse strategy. Shipt, for example, is owned and operated by Target. My advice to Target is either divest Shipt or become more aggressive in growing the business. Shipt has never lived up to its potential, Instacart has exceeded theirs. Shipt must rethink its entire business model, and I strongly recommend that Target hire a new CEO for Shipt. Some things Shipt can consider are partnering with DynoSafe to provide consumers with a secure smart box that can be placed on their porch or in their garage to receive online grocery, food and package deliveries. Another option Shipt can pursue is partnering with YETI to jointly develop a smart box capable of receiving grocery deliveries.
I also recommend that Shipt become the go-to provider for helping CPG companies launch Direct To Consumer programs for their brands. Shipt can provide the marketplace, advertising, analytics, order picking, packaging and shipping. Shipt should invest in opening warehouses powered by micro-fulfillment center technology. Providing Micro-fulfillment as a Solution would be a game changer for Shipt as it would differentiate the company from Instacart, and expand the ability of Shipt to serve specialty retailers, Big Box, warehouse clubs, and department stores in addition to grocery retailers.
Shipt should evaluate an acquisition of Tortoise, Refraction AI and/or Robomart. Target/Shipt should evaluate acquiring an instant on-demand player like Fridge No More, GoPuff, Jokr, or Robomart.
Shipt should evaluate an acquisition of Shelfy to improve their e-commerce capabilities specific to the needs of grocers and CPG companies. Shipt has unlimited potential if they create differentiating capabilities and become more aggressive in the market. None of this will happen without better and more aggressive leadership.
Conclusion
Instacart has no choice but to be deceptive. As with all deception, however, at some point the truth becomes known.
I don't work for Instacart. I don't work for a micro-fulfillment company. I can only present my opinion of what I believe Instacart should do.
I continue to recommend that Instacart open micro-fulfillment centers to automate online grocery fulfillment for their grocery clients in the articles that I write; become a system integrator and sell and install their own micro-fulfillment technology to their grocery customers; or become an online grocery retailer and acquire Kroger, Albertsons, or Ahold Delhaize. Instacart has many options.
No one expects Instacart will become a system Integrator. Few people expect Instacart to offer Micro-fulfillment as a Solution to their grocery customers. Even fewer people expect Instacart to become a grocery retailer and end their relationship with their grocery customers. I expect everything that I listed can and will happen.
The challenge for Instacart is that they're vulnerable. The sun has shone brightly on Instacart for several years but storm clouds are gathering. Going public will not ensure long-term success for Instacart. Instacart must become more aggressive and Think Big. Most of Instacart's customers can enter into agreements with micro-fulfillment companies to purchase and install MFCs within their retail ecosystems thus eliminating the need for Instacart. This is already happening.
Apoorva Mehta may have a 20-year plan for Instacart, but if Mehta doesn't follow the recommendations outlined in this article, I believe Instacart will experience a rapid downfall. Instacart is in a vulnerable position. The triumphs Instacart has experienced mean nothing in my opinion. Instacart must do more. Instacart must disrupt itself and the grocery industry. If they do, Instacart has the potential to become second only to Walmart in terms of grocery market share and revenue generated by grocery sales.