Retail sales in 2020 are expected to reach $5 trillion dollars and by 2023, retail sales globally are estimated to reach $30 trillion U.S. dollars. Retail is big business.
Inspired by a desire to reimagine retail as we know it, Ali Ahmed, Tigran Shahverdyan and Emad Rahim, serial entrepreneurs with deep domain expertise in on-demand delivery, robotics and food retailing, formed the company Robomart in 2017. Robomart was created with one goal in mind – create a new form of retail. More specifically, create a new way for consumers to shop for groceries.
The Power of Mobile Retail 
33 million Americans make a trip to the grocery store every day, driving an average of four miles to their preferred store. Consumers spend an average of one-hour driving, shopping and returning home. What's shocking is that 70% of those consumers only buy 10 items or less.
Just as shocking is the percentage of consumers who have increased their use of online grocery ordering and delivery due to COVID-19. Prior to COVID-19, I wrote several articles making the argument that the worst business model ever created was having consumers order groceries online and then have the groceries delivered. How bad is the model? On average, grocery retailers lose $10 on every online grocery order they fulfill and deliver.
Unlike most businesses where volume can be scaled, the cost to fulfill a single grocery order is the same if fulfilling 1,000 grocery orders. Orders are fulfilled manually by "pickers" that roam grocery aisles picking items off store shelves to complete an online order for a customer.
As online volumes increased, more pickers were added. A large percentage of customers have begun to complain about the decreased customer experience when shopping in a store. This is a better model for grocery retailers to utilize.
Like Americans who drive daily to a grocery store, the total number of products per online grocery order is low:
1 average ordered item = 5%
2 average ordered items = 10%
3-5 average ordered items = 25%
6-10 average ordered items = 24%
11-15 average ordered items = 10%
16-20 average ordered items = 8%
21 or more average ordered items = 18%
The bottom line is this, grocery retailing needs to be disrupted. Many grocery analysts believe that online grocery ordering and delivery is the disrupter. That's false. Robomart is the true disruptor.
Robomart is unlike any other retail model operating today. Robomart has created the world's first store-hailing service through its on-demand vans, and once regulatory approval is secured, self-driving autonomous stores. Robomart' s vans are safe, secure and exceed all cleanliness and hygienic standards related to food.
Robomart's 'Next Gen' vehicles are fully electric road vehicles engineered with cutting-edge and proprietary technology, including driverless tech for autonomy and teleoperations for safety. Robomart provides customers with a check-out free system for convenience and speed. Robomart vans and Next Gen vehicles are equipped with purpose-built refrigeration for keeping fruits, vegetables and other perishable products cold.
More importantly, customers will be able to inspect and select the groceries they want to purchase. I coined the term 'Inspect and Select' in a 2013 research paper that I wrote.
I identified that one of the major complaints against online grocery ordering and delivery is that customers frequently receive fruits, vegetables and other products that don't meet their quality standards. Robomart eliminates any chance of a customer not being satisfied as only the highest quality products are stocked and sold.
Robomart will offer 'Attended Delivery' even with their autonomous vehicles. Consumers for any reason can request to have a Robomart associate arrive in the vehicle to assist with their shopping needs or do the shopping for the customer. The Robomart associate will carry the groceries or other products into the home into an apartment if requested. Robomart has also created vehicles specific to the needs of customers in wheelchairs. These vans give handicapped customers independence to shop. Robomart's app makes it easy for a customer to request 'Attended Delivery' or request a Robomart van designed for handicapped needs.
I am one of the leading researchers on solving what I refer to as "The Longest Yard." Delivery of groceries and other products by an autonomous vehicle requires customers to physically walk to the vehicle to retrieve their groceries or other products. Multiple companies are experimenting with inventing robots that can transport groceries/products from the vehicle to the door of a home or apartment. I can state with no hesitation that I have yet to find a robotic solution tha can solve "The Longest Yard" problem. The optimal solution in my opinion, is giving consumers the option to request an 'Attended Delivery' whenever they want.
I want to reinforce this point – Robomart doesn't deliver groceries and other products, Robomart is an extension of a brand, a restaurant or a retailer, or any business. When a consumer chooses to 'hail a store', Robomart provides an experience to the consumer that is similar to what they experience in their favorite store or restaurant. Robomart isn't online e-commerce, Robomart is immediate gratification in the form of a mobile store or restaurant.
I became interested in Robomart in 2018 while I was researching the retail industry for new technology. I was so impressed with Robomart that I wrote an article about the company and I coined the term "hail a store." In many ways, Robomart is like the 'Uber of groceries." Traditionally, to buy groceries, consumers would either physically go to a store or order their groceries online. Now there's a much better way for consumers to meet their needs for groceries. Consumers simply tap a button their phone to request the closest Robomart.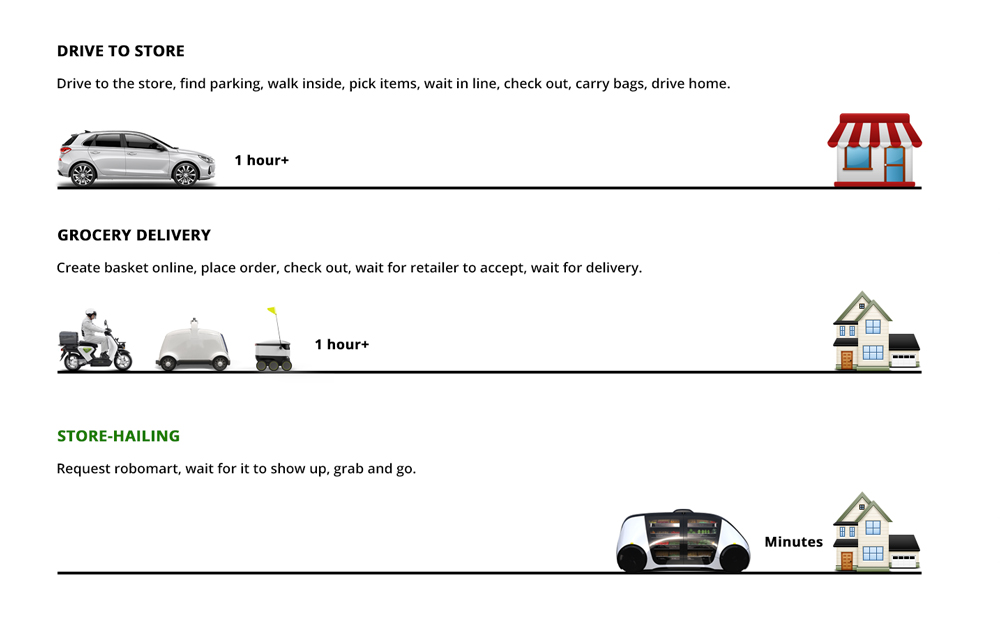 Robomart eliminates the need for going to the store or ordering groceries online. Robomart brings the store to you.
Listed below are examples of how companies in different industries can leverage Robomart to take their business to the next level.
Chick-fil-A Takes Their Chicken for a Ride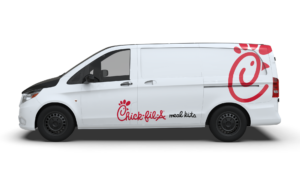 Chick-fil-A is the second highest grossing fast-food chain in the United States. With 2,470 locations and a cult-like following of customers, Chick-fil-A generated $11.3 billion in sales in 2019. The challenge for Chick-fil-A is that they trail the leading restaurant chain, McDonald's, in the number of stores; McDonald's operated 13,846 stores in 2019.
Chick-fil-A can contract Robomart to send Chick-fil-A branded Robomarts into areas where Chick-fil-A lacks restaurants. This is an easy to implement strategy for building brand awareness and expanding into cities and urban areas without restaurant locations. Chick-fil-A can stock the Robomarts with samples of their sandwiches and salads. In addition, Chick-fil-A can stock Robomarts with their meal kits.
Chick-fil-A has the option of making Robomarts available throughout the day as an extension of their restaurants. When a Robomart runs low on inventory, it can easily be routed to the nearest restaurant for replenishment.
PepsiCo Crushes Snack Attacks FAST!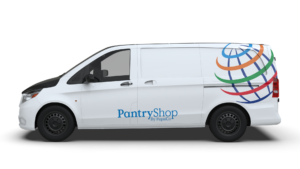 Few companies are as popular as PepsiCo. Daily in over 200 countries, one billion people consume a PepsiCo product. The company's product portfolio includes a wide range of enjoyable foods and beverages, including 23 brands that generate more than $1 billion each in annual sales. The goal of PepsiCo is simple – Be the Global Leader in Convenient Foods and Beverages by Winning with Purpose.
To make it even easier for consumers to enjoy their products, PepsiCo recently launched Snacks.Com and PantryShop.Com, two direct-to-consumer websites where shoppers can order an assortment of PepsiCo's trusted and loved food and beverage brands.
PepsiCo should contract Robomart to offer their tasty products to consumers even faster. Robomarts can easily be stocked with Frito-Lay products and brands like Lay's, Tostitos, Cheetos, and Ruffles. Dips, crackers, nuts, Gatorade, and of course, Pepsi, Mountain Dew, Sierra Mist and other beverages owned by PepsiCo, can also be stocked and sold.
Walgreens Thinks Outside the Four Walls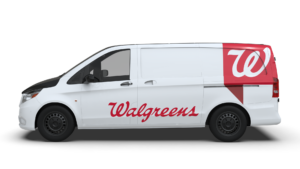 Walgreens is one of the nation's largest drugstore chains operating 9,277 drugstores across all 50 states, the District of Columbia, Puerto Rico, and the U.S. Virgin Islands. Walgreens also runs an omnichannel business, Walgreens.Com. Over 8 million customers interact with Walgreens in stores and online each day.
In 2018, Walgreens and Kroger formed a partnership whereby Walgreens would fill underperforming front end space with traffic-driving groceries purchased and distibuted by Kroger. The groceries consist of perishable and ambient temperature products. Based on our research, the partnership with Kroger is adding value to Walgreens' customers. It will be interesting to watch if Walgreens eventually decides to stock and sell their own private label groceries at higher margins.
In addition to the partnership with Kroger, Walgreens could contract Robomart to offer Walgreens customers an alternative channel for buying Walgreens merchandise and groceries. Hailing a Walgreens Store would introduce a new dynamic into Walgreens retail strategy. Customers in need of over the counter medicines and prescription drugs, would find Robomart a valuable and delightful option for their needs.
Because of the ability to stock and sell different products on each Robomart, Walgreens customers will have access to groceries, snacks and other products.
Starbucks Makes Dreams Come True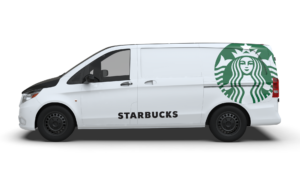 Mention the word 'coffee' and immediately the name Starbucks is also mentioned. With over 30,000 locations worldwide, Starbucks is more than the largest coffeehouse in the world, Starbucks is a must-have experience for millions of customers on a daily basis. Known for their hot and cold drinks, whole-bean coffee, espresso, caffe latte, full and loose-leaf teas, juices, pastries and other snacks, Starbucks attracts a large number of customers who become repeat customers.
To serve the needs of their customers even more, Starbucks can utilize Robomarts to roam city streets and neighborhoods stocked with a specialized selection of coffess, teas and snacks. Vans can be dedicated to carry only coffee and snacks, teas and snacks or all three.
The value of Robomart is that the vehicles can be customized to meet the needs of Starbucks.
Mobile Starbucks will be a dream come true for millions of consumers.
Dunkin' and Deliverin'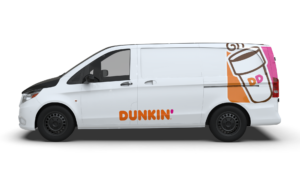 Dunkin' Brands Group is one of the world's leading franchisors of quick service restaurants serving hot and cold coffee and baked goods. At the end of the first quarter 2020, over 13,000 Dunkin restuarants were in operation.
To grow the brand even more while staying true to its 100% franchised business model, Dunkin' can utilize Robomart to provide its hot drinks, delicious and famous donuts, iced drinks, sandwiches and wraps, frozen drinks, bakery items and snacks, brew at home coffees, and better-for-you DDSMART food and beverages in Dunkin'-branded vans.
An added benefit is that Robomart can be utilized to expand into areas where Dunkin' restuarants don't operate. This is a low-cost yet highly effective method for franchisee's to grow their business. Robomart is an on-demand service which allows consumers to hail a Dunkin' restaurant whenever and wherever they choose. More customers means more revenue and happier franchise owners.
Micro-fulfillment and Replenishment
To maximize the availability of each Robomart to meet the needs of consumers, strategically placed micro-fulfillment centers stocked with inventory, allows for ease of routing and speedy repelenishment of each Robomart. Depending on volumes, micro-fulfillment can be automated by installing small and highly efficient Micro-Fulfillment Centers (MFC). Incentory is placed inside the MFCs automating replenishment. I recommend utilizing a robotic system from AutoStore.
Robomart can also replenish vehicles from stores, restaurants, warehouses and distribution centers owned and operated by contracted customers.
Robomart thoroughly evaluates the mobile network of each customer and designs the optimal replenishment strategy.
The Possibilities Are Endless for Robomart
Robomart has determined that the optimal launch strategy is to begin with best-of-the-best vans due to restrictions on autonomous vehicles. Robomart can customize the internal cargo compartment of each van to meet the business needs of their customers, while taking into consideration the product characteristics of the products stocked and sold.
Robomart has carefully evaluated and selected vans from a leading manufacturer to provide consumers with an exceptional experience. Robomart vans can operate 24/7 365 days per year if desired by a customer. Robomart leverages facilities to store, maintain and clean each Robomart to exacting standards.
When a customer is signed, Robomart can launch their vehicles in a region within 30-days.
As cities across the U.S. and in international locations approve the use of autonomous vehicles, Robomart will incorporate their Next Gen Robomarts for use by their customers. Robomart can scale the number of their Next Gen Robomarts into the thousands giving restaurants, brands and retailers the ability to expand into different regions without the need for physical stores; assign Robomarts to areas with the highest population density to maximize brand awareness and sales; and create a mobile store presence that is an extension of their physical stores and restaurants.
Robomart can also provide Direct to Consumer (DTC) brands with a low-cost mobile store option to accelerate the growth of their brand by giving consumers the ability to shop for products right from a Robomart. In an environment like COVID-19, Robomart eliminates the fear of shopping in a store.
In addition to the examples of companies that should contract Robomart, leading retailers like Target, Walmart, CVS, Home Depot, Lowe's, convenience stores (goPuff for sure) and every grocery retailer (especially Albertson, Ahold-Delhaize, H.E.B, Kroger), and independent grocery retailers, should utilize Robomart's vans. Every Quick Service Restaurant (QSR) can extend their network, grow their brand and increase sales through a partnership with Robomart. Mobile McDonald's, Wendy's and other restaurants can easily become a reality.
I advise every retailer currently experiencing negative fallout from COVID-19 and the increased use of e-commerce, to contact Robomart. Retailers don't have to keep all of their physical stores to provide their customers with a shopping experience. Robomart can be incorporated into a retailers business model to meet customer demand through mobile instead of physical stores. Mobile retail is a low-cost strategy that will become the norm for most retailers.
Robomart is a company that will transition into other lines of business. For example, Robomart can utilize their Next Gen vehicles to pick-up and deliver passengers. Using the Robomart app, consumers will be able to easily hail a Robomart for a ride. Dark kitchens can leverage Robomart to deliver hot meals or meal kits. Robomart vehicles can easily be fitted as mobile clinics. Robomart is launching with a focus on groceries and restaurants but the company can and will scale the concept into other businesses.
When Uber was launched, the taxi industry and other passenger pick-up and delivery companies, dismissed Uber as a fad. They were wrong. Uber didn't just revolutionize passenger travel, Uber decimated entire industries. QSR's and retailers should embrace Robomart and understand that incorporating Robomart into their business models makes sense strategically and financially. Robomart is the next Uber, only bigger.
The possibilities are endless for Robomart because they've created a new channel that companies across industries can enter and utilize to grow their businesses.
Robomart won't improve retail, Robomart is going to revolutionize retail.