On January 12, 2021, General Motors announced a new business, BrightDrop, which will offer an ecosystem of electric first-to-last-mile products, software and services to empower delivery and logistics companies to move goods more efficiently. BrightDrop solutions are designed to help businesses lower costs, maximize productivity, improve employee safety and freight security, and support overall sustainability efforts.
"BrightDrop offers a smarter way to deliver goods and services," said Mary Barra GM Chairman and CEO. "We are building on our significant expertise in electrification, mobility applications, telematics and fleet management, with a new one-stop-shop solution for commercial customers to move goods in a better, more sustainable way."
BrightDrop was born out of GM's Global Innovation organization and joins the lineup of other recently launched Global Innovation startups, such as OnStar Insurance, OnStar Guardian and GM Defense. From a growth strategy standpoint, this new business will unlock areas of B2B, expansion of the Ultium platform and software and service opportunities.
GM estimates that by 2025, the combined market opportunity for parcel, food delivery and reverse logistics in the U.S. will be over $850 billion. According to the World Economic Forum , demand for urban last-mile delivery, fueled by e-commerce, is expected to grow by 78 percent by 2030, leading to a 36 percent increase in delivery vehicles in the world's top 100 cities. At the same time, this increase in demand is expected to cause delivery-related carbon emissions to rise by nearly one-third.
To help meet this surge in demand, while reducing the impact on the planet, BrightDrop is developing an integrated set of solutions to help improve almost every aspect of first-to-last-mile delivery:
BrightDrop Trace eCart – BrightDrop's first product to market, the Trace eCart, is a propulsion-assisted, electric pallet developed to easily move goods over short distances – for example, from the delivery vehicle to the customer's front door. The Trace eCart can help reduce package touch points, costs and physical strain on delivery drivers.
Click this link to learn more about the Trace Cart for groceries, and this link for Trace Move, the parcel and last mile logistics solution.
BrightDrop Zevo 600 – Is an electric light commercial vehicle purpose-built for the delivery of goods and services over long ranges. It combines zero-emissions driving with a range of advanced safety and convenience features more common in consumer electric vehicles.
Click here to learn more about the Brightdrop Zevo.
Brightdrop is live and fully operational. The company has made tremendous progress since 2021. For example, Brightdrop recently delivered the first of 4,000 vans to Ryder. Brightdrop has done an excellent job of signing contracts with companies to introduce the Zevo 600 into their fleets including Walmart and FedEx.
Travis Katz is the President and CEO of Brightdrop.
I recently had the pleasure of inspecting the Trace Cart for groceries and also the Zevo 600 at the GroceryShop conference in Las Vegas. I can state that each is a high-quality product. The Zevo 600 is an incredibly well-made vehicle; it's built on the Hummer platform. When I saw the Zevo, I climbed on the back of the vehicle and I started jumping up on down – the vehicle barely moved. (I weigh 223 pounds. I lift weights six days per week as I'm trying to get my body to look like actor Chris Hemsworth's body – it's not working even though I've gained nearly 25 pounds of mostly muscle.) Several months ago, I climbed on the back of a Rivian van and I also started jumping up and down – the van was nowhere near as sturdy as the Zevo 600 – not even close.
I'm a fan of Brightdrop. However, I'm surprised that instead of using the name 'Brightdrop,' GM didn't call the division 'Durant' after one of the company's founders, William Durant.
Lead, Follow Or Get Out Of The Way
In speaking with the team from Brightdrop, it's clear that they understand the importance of expanding their presence in the grocery industry. Brightdrop is currently in a partnership with Kroger testing the Trace Cart. Feedback from from Kroger has been very positive.
I tested retrieving an online grocery order from a Trace Cart at GroceryShop, and I was impressed by how easy it was to access and unlock the doors in the Trace Cart where my order was stored. The cart is incredibly well-built. In fact, let me make this point as clear as I can – General Motors was founded on September 16, 1908; 115 years ago. GM is arguably the greatest car company in the world. Stated another way, GM isn't a startup – GM is a leader in everything they build be it cars, EVs, or Trace Carts.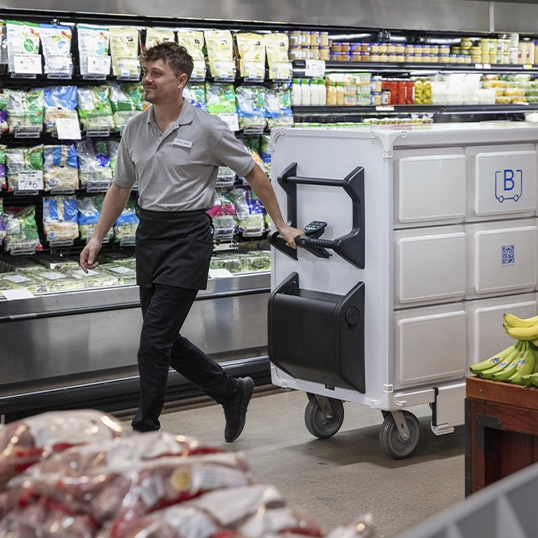 I won't reveal any of the information that I was told about the future plans of Brightdrop. On the surface, the plan is sound. It's also safe – too safe in my opinion. Although Brightdrop has big plans as a company. I believe the future of Brightdrop can be much bigger. In fact, by 2030, I believe Brightdrop can be a $6B to $10B company. Here's how.
The missing ingredient of the grocery industry is that no one has truly created a Logistics Platform for groceries. (The Ocado Group will disagree with me on this. No offense, Ocado, but you haven't built the type of logistics platform I believe is needed.) By "logistics platform" what I mean is technology, software, fulfillment, and delivery 100% based on the needs of customers who order groceries online and/or pickup their groceries at a store.
For example, delivering groceries to homes is primarily completed by gig workers driving every type of car, van or truck imaginable. What I envision is a vehicle that has the ability to leverage a 'one to many' ratio – one vehicle making many deliveries to many homes. A car or passenger van loaded with bags of groceries, some with dry ice inside to keep perishable products cold, isn't the answer. Instead, what's required are specially designed containers for chilled, frozen and ambient temperature products. I rank Trace Cart at the top of the list of available products for storing groceries.
A must-have for a logistics platform is a vehicle designed specifically for delivering groceries. In my opinion, the Zevo 600 is the best vehicle available today. The picture below depicts using Zevo's to transport carts for groceries and other products. The model has potential. However, what I believe is missing is a van capable of transporting 14 to 16 Trace Carts (maybe more). It may be best to create a new cart. Software can identify the optimal order in which to load the carts. As the van approaches a delivery, the cart will be moved to an elevator lift that will lower the cart to the ground whereby the driver will make the delivery.
By 2030, I envision that carts will be able to be lowered to the ground whereby they will wheel themselves to a home. When a van returns through the neighborhood, the carts can wheel themselves to the platform on their own where they can be retrieved and returned to a store. In cities where autonomous vehicles are approved, this model will become standard practice.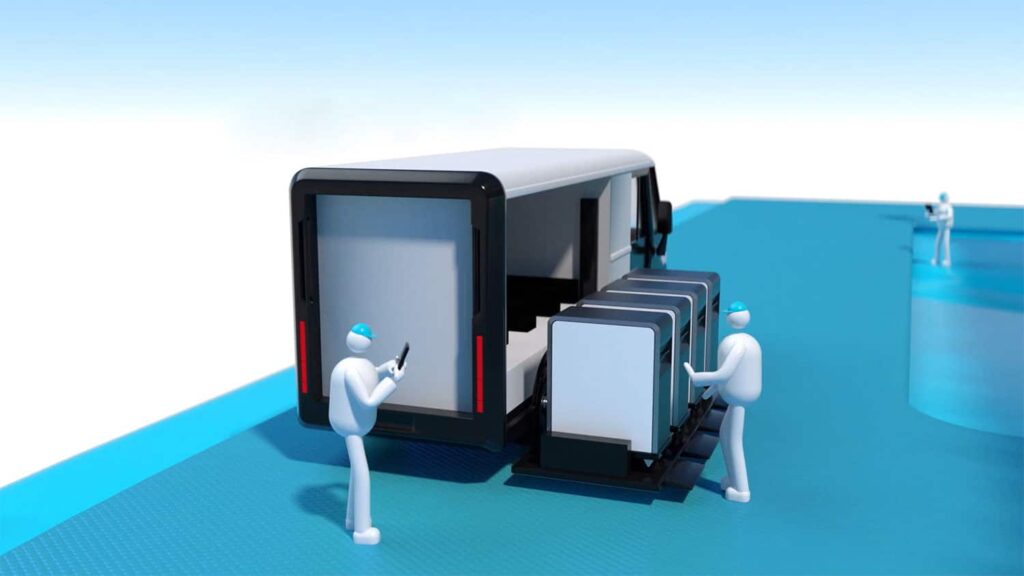 When discussing the grocery industry and opportunities for Brightdrop, one thing stands out above all others for me – Should GM acquire Instacart? I can make an argument for and against the idea. However, in order for Brightdrop to achieve their full potential, acquiring Instacart should be a topic of conversation between Instacart CEO Fidji Simo, Mary Barra and Travis Katz. The automotive industry is vertically integrating. Acquiring Instacart and possibly other companies isn't a farfetched idea.
If GM acquires Instacart, and even if GM doesn't acquire Instacart, I encourage GM and Brightdrop to explore investing in micro-fulfillment centers (MFC) to automate online and curbside grocery fulfillment. Should GM acquire Ocado? It's worth assessing but it's not my favorite idea.
Brightdrop is in a position to thoroughly dominate the curbside click and collect grocery segment using their Trace Carts. Every grocery retailer that has curbside grocery should be in discussions with Brightdrop. Brightdrop also has the best system for fulfilling online orders in stores using the Trace Carts.
Delivering groceries isn't enough. Consumers also want food ordered from restaurants. An interesting opportunity for Brightdrop to pursue is approaching DoorDash about a partnership for developing a business model whereby DoorDash leverages Trace Carts for food delivery and where possible, combine food and grocery delivery in the same cart and on the same vehicle.
I remain convinced that an opportunity exists for a company to provide consumers with prepared, semi-cooked or fully cooked meals. The company that can provide such meals at a price point cheaper than a consumer can go to a grocery store to buy the ingredients or order them online for delivery, and cook the ingredients, will severely disrupt the grocery industry. What will be needed for the model to succeed? Specially designed commissaries to prepare meals and a logistics platform to ensure flawless deliveries. DoorDash and Brightdrop will make a mistake if they don't find a way to partner to turn the vision into a reality.
Brightdrop also has an opportunity to enter a new channel they're currently not competing in – deliveries to tier 2 locations like convenience stores. One of the biggest challenges for PepsiCo, for example, is delivering their products to tier 2 locations at one time vs. multiple deliveries of products throughout the week. PepsiCo is so concerned about this that they created a program called 'The Power of One' with the goal of each business unit across the company partnering on a solution for combining all products into a single delivery. I strongly encourage Ramon Laguarta, CEO of PepsiCo, to meet with Mary Barra and Travis Katz to discuss opportunities for investing in Brightdrop and partnering together. (I encourage Starbucks CEO Laxman Narasimhan to also contact Mary Barra and Travis Katz to discuss a partnership with Brightdrop.)
The more partnerships that Brightdrop forms, the more capable they will be in introducing new ideas for food and grocery delivery. In addition, Brightdrop will be able to leverage capabilities from PepsiCo to approach the CPG industry about expanding their Direct to Customer business vs. relying exclusively on grocery retailers to sell their products. Brighdrop can approach grocery retailers about identifying solutions to make their business more profitable while increasing the customer experience.
I'm not interested in Brightdrop being a delivery company. I want Brightdrop to be a strategic partner to companies across multiple industries. Big difference. I want Brightdrop and GM to identify exactly how to leverage GM's strengths to accelerate Brightdrop's growth, identify new market opportunities, and make their competitors obsolete and irrelevant.
Think Big
I enjoy writing articles about a company like Brightdrop because I have so much respect for the leaders and associates who made the company a reality. I feel comfortable crushing all assumptions and Thinking BIG about Brightdrop because I'm confident they can achieve virtually anything they choose to pursue.
For example, I'm fascinated by the idea of GM acquiring Kodiak, Cruise and Lyft, (GM is an investor in Cruise), and combining the companies with Brightdrop. I don't want GM to compete against Uber. I want GM to identify new market opportunities that will render Uber irrelevant while creating profitable growth for GM.
Let's return to the beginning of this article.
GM estimates that by 2025, the combined market opportunity for parcel, food delivery and reverse logistics in the U.S. will be over $850 billion. According to the World Economic Forum , demand for urban last-mile delivery, fueled by e-commerce, is expected to grow by 78 percent by 2030, leading to a 36 percent increase in delivery vehicles in the world's top 100 cities.
Another idea that I find fascinating is GM merging with UPS. It can be done as there are various strategies companies can use to merge even when one company is larger than the other. However, it will take a lot of work to make it happen. A strategic partnership between GM and UPS should also be considered. When going after an $850B market opportunity, it makes sense to consider all options. I encourage UPS CEO Carol Tome and Mary Barra to meet and talk. Nothing more. Simply meet and talk.
FedEx is a customer of Brightdrop and I'm confident that the relationship will grow as FedEx has ambitious sustainability goals. FedEx is also implementing strategies to improve the efficiency with which FedEx picks up, transports, and delivers packages. Brightdrop's Zevo and Trace Move carts are an ideal fit for FedEx. However, since FedEx is non-union and GM is a Union company, GM and FedEx won't merge. Brightdrop can challenge FedEx's strategy to determine if there are additional opportunities for collaboration.
What about e-commerce and logistics? Shouldn't GM acquire Shopify or a third-party logistics company? No. GM should avoid entering capital intensive markets that will require them to invest billions to build the same capabilities that are already being provided by Amazon and other companies. I prefer Brightdrop to establish partnerships with leading logistics companies globally vs. buying or building their own warehouses and fulfillment centers. As for Amazon…they have a partnership with Rivian but they certainly should assess Brightdrop.
I do, however, recommend that Brightdrop leverage GM's capital to identify optimal urban real estate locations that can be leased or acquired for micro-fulfillment and also as staging areas for groceries and other products.
There are two more ideas for GM and Brightdrop to pursue:
GM approaches the Postal Regulatory Commission and Congress about privatizing the USPS. There have been discussions for years about privatizing the USPS and even possibly selling the USPS to Amazon, Walmart, UPS, or FedEx. There was always resistance to having any of the companies I listed be part of a solution for the USPS. However, Mary Barra is popular inside the Biden administration and GM isn't viewed as threat to the major parcel carriers. A discussion between Barra, members of Congress and executives at the USPS, may produce some interesting options for all concerned.
GM and Brightdrop invite Amazon, UPS, FedEx, and Walmart, to take part in a discussion for how to solve one of the worst problems related to parcel deliveries – parcel carriers making deliveries to the same neighborhoods and often to the same houses on a weekly basis. The challenge should be to answer this question: How can packages from Amazon, Walmart, UPS, and FedEx, be consolidated on one truck for deliveries going to the same locations? What would it take? Why isn't it already being done? According to my research, there are significant benefits from consolidating packages for deliveries vs. continuing with the process of each parcel carrier and Amazon making deliveries in their own vehicles.
What's Next?
In my opinion, Brightdrop must stop thinking of themselves as being a delivery company and instead, they need to think of themselves as being a solutions provider. Within the United States are ecosystems and inside each ecosystem there are consumers and companies with many different needs – food, groceries, logistics, travel, and so on. I encourage Brightdrop's executive team to drill down and identify exactly where the company can provide solutions, create new markets, and disrupt mature industries with entrenched businesses within each ecosystem.
I also encourage Brightdrop's executive team to become much more aggressive in driving growth. Should Brightdrop be one company or two? For example, 'Brightdrop Commercial Vans' and 'Brightdrop Fulfillment and Logistics'. If Brightdrop grows as fast as I believe they can, separating into two companies sooner rather than later makes the most sense. I have more confidence in the ability of Brightdrop to grow their Zevo sales than I do GM and other U.S. car makers not named Tesla, to grow their EV car sales.
Growth at Brightdrop can come faster than anticipated by doing one thing – leverage GM's relationships for all their worth. This means asking Mary Barra to invite key executives from across the automotive, retail, colleges and universities, military, aerospace, manufacturing, oil and gas, chemicals, and other industries that GM or Mary have a relationship with to identify new customers and possibly identify new market opportunities for Brightdrop.
Brightdrop should meet with representatives of the Saudi Arabia Public Invest Fund to discuss opportunities for the fund to invest in Brightdrop, and also discuss a strategy for manufacturing Zevo's and batteries in Saudi Arabia. Brightdrop should explore business opportunities for their vans in Saudi Arabia; especially business opportunities to support the NEOM project.
Brightdrop must improve their supply chain. This is a must have for the company. The purpose of a supply chain is to do one thing – enable growth. Brightdrop needs a bulletproof supply chain they can leverage for growth.
I strongly recommend that Brightdrop identify a strategy for how to make Gen Z fall in love with their vans and carts. Walmart is Gen Z's favorite online grocery store but Gen Z is always interested in finding ways to save when they shop. Although Walmart is a customer of Brightdrop, Walmart should be a key area of focus for Mary Barra and GM. Note: This doesn't mean ignore other grocery retailers. It means prioritizing Walmart to maximize the opportunity. Kroger, Albertsons, Home Depot, Lowe's, CVS, Walgreens, and other retailers can benefit from a relationship with Brightdrop.
Winning over Gen Z provides Brightdrop with all kinds of opportunities for expanding into other areas of retail – Temu, TikTok, Shein – what can GM and Brightdrop do to elevate the awareness and importance of Brightdrop and also accelerate growth for Brightdrop? I'm curious, what is Brightdrop's TikTok strategy for introducing the company on the platform?
Finally, it's possible that Brightdrop will be acquired.
There are many other things that Brightdrop can do. I listed only a few ideas.
Think BIG and crush all assumptions, Brightdrop.