I had the pleasure of recently speaking with Louis Borders, the founder of Borders bookstores, and the first heavily-automated online grocery retailer, Webvan.
I didn't just interview Borders and ask him the same questions he's already been asked hundreds of times. Instead, I challenged Borders to tell me what everyone fails to understand about himself and his continued obsession with re-imagining the grocery business.
I was expecting a lengthy explanation with a myriad of examples outlining why the grocery business is so personal to him. The reply was short and to the point. According to Borders, he is "motivated by solving major pain points in people's everyday lives and few things are more broken and painful than the way Americans shop online and buy and receive groceries."
Is he right? Is the grocery industry broken?
From Another Era
Grocery shopping in the U.S. has an interesting past. In the 1800s to around 1910, most consumers walked into general goods stores, handed a clerk a list of groceries and other products they needed, and the clerk dutifully filled the order.
In 1910, entrepreneurs put groceries into trucks in cities like New York and Chicago to create mobile supermarkets capable of driving through neighborhoods to sell groceries.
In 1916, Piggly Wiggly became the first self-service grocery retailer. The chain introduced aisles with shelves stocked with groceries, freezers, coolers and uniforms for their employees.
Little has changed in the appearance and function of brick-and-mortar grocery stores.
Webvan was founded in 1996 and started taking orders at its location in San Francisco in 1999. The purpose of Webvan was to offer customers the option of ordering high quality perishable products along with other groceries using a new model – online grocery ordering and delivery to your door. Although Webvan shut down in June 2001, the company provided a brief glimpse into the future.
Throughout the 2000s, companies like Amazon, Walmart, Peapod, Harris Teeter and other grocery retailers, expanded into online grocery ordering and/or Click and Collect services whereby customers order groceries online and then pick up the groceries at a nearby store.
In my opinion, the growth of online grocery ordering highlights an important fact about the current state of the grocery business and especially grocery stores — both continue to offer an experience that is from another era. Stores have barely changed since 1916, and retailers that offer online grocery ordering end up brute forcing a solution to fit into their ecosystem of stores and business model.
I have been quoted multiple times in the press that I believe online grocery ordering and delivery is the worst business model ever created. I still believe this to be true.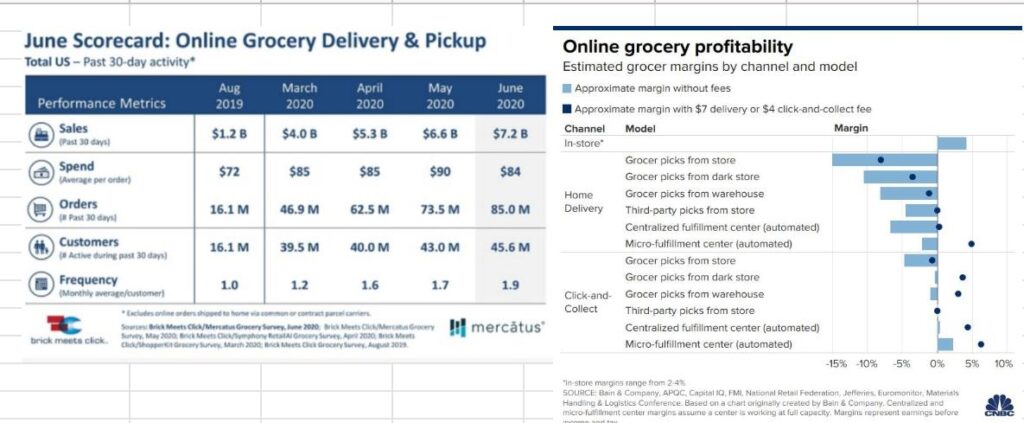 When customers shop at a grocery retailer for their groceries, the grocer generates about 4% margins on the products that are sold. However, when customers don't shop in stores and instead turn to ordering their groceries online, the methods for fulfilling online orders generates a loss of $4 to $7 on every online order that is fulfilled. In other words, unless a grocery retailer charges a fee for delivery or a Click and Collect drive-thru pickup fee, the retailer loses money on every order they fulfill.
Few grocery retailers charge fees for fear that customers will buy their groceries from retailers that don't charge fees. Truth be told, grocery retailers are trying to attract customers to place online grocery orders even though they know they lose money on every order they fulfill.
A grocery client I provided consulting to in 2019 lost an average of $10.85 on every online order they fulfilled. Their solution? Increase the budget for marketing to generate more online ordering. I was able to prove to the client that volume had no impact on reducing their costs. Unlike most businesses where volume can be scaled to reduce unit costs and operational costs, the cost to fulfill one online grocery order is exactly the same if 1,000 orders are fulfilled. (The retailer implemented my recommendations and now break even or generate a small margin on each online order they fulfill).
Listed below are recommendations for reducing the costs to fulfill online groceries while improving the business:
Increase the density of orders in the regions where the retailer delivers. The biggest mistake made by grocery retailers is that they have failed to understand the importance of density and they have failed to implement strategies to increase density.
Install micro-fulfillment centers (MFC) inside grocery stores and/or in an offsite location to automate the process for fulfilling online grocery and Click and Collect orders. I recommend AutoStore above all available MFC solutions. You can read more about the use of micro-fulfillment centers in retail here.
Utilize electric delivery carts for deliveries within three miles of a store or micro-fulfillment center. I recommend the electric and remote teleoperated delivery carts from Tortoise. 100 million people live where Tortoise is already approved to operate their carts. I like the carts from Tortoise because they're approved for travel on sidewalks. In addition, the first generation of carts hold 100 pounds but future carts will be able to carry more weight. Most of all, using electric carts from Tortoise will reduce the cost of a delivery within three miles of a store by $6.00 or more per delivery.
Any retailer interested in utilizing the carts from Tortoise should contact the company and pilot the carts. I especially recommend Albertsons and Kroger to pilot the delivery carts from Tortoise. Mobile retail is generating a lot of interest. Any retailer or restaurant interested in learning more about Robomart should contact the company. 
Customers that order their groceries online are unprofitable for grocery retailers. This makes customer retention and lifetime value critical. According to Kroger, they estimated it will take 3 to 4 years of purchases for every online customer to reach profitability levels similar to an in-store customer.
Another weakness of online grocery ordering and delivery is that retailers lose revenue traditionally generated from impulse purchases from customers in their stores. An 'impulse buy' is an unplanned purchase made by a customer. When a customer shops online, they select the groceries they need and complete the order. When a customers shops in a store, they wander around the store going up and down aisles. This presents an opportunity for a customer to see something they like and buy it.
The current model utilized by retailers for online grocery ordering and delivery is broken. Louis Borders knows this better than most hence his continued focus on creating a better model for groceries.
Don't Improve, Reimagine
In speaking with Borders, he remains steadfast in his belief that the online grocery industry is broken. Prior to the COVID-19 pandemic, only 3% of groceries sales were online. Borders argues that "of course" consumers want to be able to order their groceries online "but they won't because they don't like the current experience and they don't like the lack of quality in the groceries they receive."
The process of ordering and fulfilling groceries is indeed full of pain for grocers and customers. However, solving the problems that plague the industry can't be accomplished by trying to improve the current process. Instead, the entire concept of how consumers meet their needs for groceries will have to be reimagined.
Enter Louis Borders' Home Delivery Service.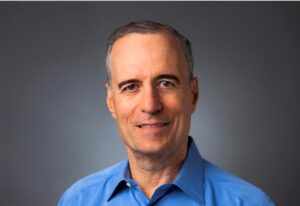 Being recognized as the founder of the largest company to go bust during the early days of the dot.com era (Webvan) has its advantages. To begin with, Borders has learned from the mistakes made at Webvan. Borders learned that turning his vision into a reality was possible. Borders learned that his vision was too small.
Borders newest venture, Home Delivery Service (HDS), isn't 'Webvan 2.0', it is a model for the modern era of grocery retailing. (Borders confided to me that the name of the company will be changed now that they're out of stealth mode). At a high-level, HDS offers a new model for ecommerce built around a highly automated fulfillment system capable of leveraging robotics to perform 95% of all of the functions associated with running a grocery fulfillment center warehouse and fulfilling individual customer orders.
Formed with a $30 million investment from Toyota and Ingram Micro, Borders plans to open a network of 100 or more distribution centers 150,000 square feet. Instead of utilizing robots that take goods to persons for manual picking, Borders has designed a system whereby robots transport goods to automated picking robots. Everything associated with receiving, sorting and storing inventory and fulfilling orders, will be done using robots.
A company with a similar business model is the British technology company, Ocado. The U.S. grocery retailer Kroger has entered into a partnership with Ocado whereby they will build 20 or more automated Customer Fulfillment Centers (CFC) to deliver groceries for Kroger.
Full disclosure: I was hired as a consultant by Kroger and in 2017 and 2018, I recommended to Kroger to either acquire Ocado or partner with them to leverage their technology. Based on my knowledge of Ocado and HDS, both companies have similarities but I believe the technology from HDS is more advanced without the high cost and complexity associated with Ocado's platform.
Automation will allow Borders to dramatically reduce costs and use those savings to offer groceries to customers for less while simultaneously providing concierge level service. The quality and variety of groceries will be significantly better than what consumers are used to seeing today in stores and when they order online. It is common for fruits and vegetables to remain in a store for seven or more days before they're purchased. Fruits and vegetables will remain in an HDS facility an average of 24-hours.
The focus on quality is critical. The 20% of products that generate 80% of sales in a grocery store are all perishable items: meat, milk, eggs, dairy products, bread and baked goods, fruits and vegetables. If Borders is able to establish a reputation that HDS offers and delivers the "freshest of the fresh" products, it will drive sales.
The video below provide an overview of the robotics that will be utilized to fulfill online orders in an HDS facility.
Another aspect that separates Borders vision from the models currently being utilized to fulfill and deliver grocery orders is that each HDS facility will have its own fleet of specialized delivery vans staffed by a team of full-time drivers. (I agree with Borders that using gig workers to deliver groceries gives customers a terrible experience). Machine Learning and Artificial Intelligence will play a key role in operations and customer experience. Drivers will be highly trained to learn the needs of their customers, resolve issues, take returns and tell customers about new products and services.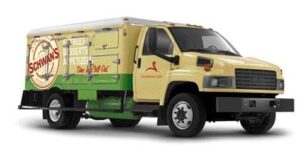 An example of a company that uses a similar model is Schwan's who utilizes delivery trucks and full-time drivers to deliver food to customers while also introducing new products, reviewing purchase history, and upselling to customers to increase revenue. (Schwan's has exceptional potential to expand into online groceries, grocery delivery, meal kits and customized prepared meals on a large scale, but the company lacks the right executive team to make it happen).
I asked Borders what company or business model most resembles what he wants to accomplish with HDS. Borders replied, "HDS will operate much like Starbucks who created what I consider to be a best-in-class made-to-order model for coffee. With our automated system, we can do the same for perishables and prepared foods." Borders referencing Starbucks as the model for HDS demonstrates that he doesn't view HDS as a fulfillment company, he views HDS as a customer experience ecosystem.
Borders went on to state, "We are beginning with groceries and consumables but over time, we will fulfill apparel, shoes, and other retail products."
An advantage that Borders has to gain traction with HDS is his commitment to brands and third-party sellers that under no circumstances will HDS copy their products to make a private label version available to the public. Borders has also committed to treating brands and sellers on the platform more like partners aligned around the goal of providing consumers with the best products at the best prices while leveraging the most advanced fulfillment ecosystem in existence.
Will Borders Succeed This Time? 
During my discussion with Borders, I brought up the topic of Webvan several times. Borders answered my questions with ease and showed no discomfort in speaking about the poster child of the dot.com bust. Until I asked this question – Will Home Delivery Service succeed or will it be another Webvan? Borders clenched his jaw and narrowed his eyes as he spoke.
The words he was speaking didn't have anywhere near the impact on me as did the look on face as he spoke. Make no mistake, this is personal to Borders. I interpreted his words to mean the following – Webvan failed. The grocery industry is still broken. HDS is light years ahead of Webvan. We have finally cut the Gordian Knot of the grocery business.
Will Borders succeed? Yes, I believe he will. Borders didn't create Webvan 2.0, he reimagined the grocery business. Big difference.
I am one of the few people who has assessed most of the micro-fulfillment centers and other fulfillment robotics available across the globe. Based on what I learned from Borders, he and his team have created something very special. Let me end the suspense. I can state with no hesitation that the robotics and other technology created by Borders and his team are without equal.
However, as HDS expands into other categories, I believe leveraging technology from AutoStore to accelerate growth should be explored. A challenge I've seen encountered by several fulfillment startups over the last several years is their insistence on utilizing robotics they designed vs. leveraging fulfillment and micro-fulfillment solutions available on the market. Although the technology from the startups may have been superior, it was also overly complex and expensive.
A tenet of Toyota's Lean Methodology is overprocessing a product or a process is actually wasted time, money and effort. If HDS can increase speed to market without reducing performance by incorporating AutoStore into its ecosystem to accelerate growth, it should be considered as an option. (I recommend Albertsons, Kroger, Amazon, Target and other retailers contact AutoStore to learn more about the technology. In addition, retailers can learn more about AutoStore and micro-fulfillment here).
As Borders frequently states, groceries are a $1 trillion opportunity. In addition, there is no expiration date on when the human race will come to an end. It's irrelevant that Borders is entering the grocery market with his solution in 2020 instead of 2010. A truism in business is that a superior business model powered by innovative technology, operational excellence and flawless execution, will prove to be a disruptive force. Just ask Amazon.
I've been asked many times if HDS can succeed without having its own grocery stores. Based on my knowledge of the global grocery industry, I believe too many analysts and retailers fail to realize that stores are not a requirement for a new entrant like HDS. If HDS successfully provides consumers with better quality fruits and vegetables, lower cost groceries, and an impeccable delivery model, HDS will grow its customers base.
Also, and this is key – Walmart operates 4,756 stores in the U.S. and 90% of the population lives within 10 miles of a Walmart. Kroger operates 2,757 stores. On the surface, it would appear that Walmart and Kroger have an insurmountable advantage over HDS. I disagree. Stores do not provide an advantage if a new entrant like HDS is leveraging technology and a new business model to give it an advantage in speed, cost and quality.
The belief grocery stores provide impenetrable protection from new entrants is false. I believe stores are in fact a modern-day version of the Maginot Line. HDS won't compete head-to-head against any retailer, it will use its business model and technology to exploit the weaknesses inherent in how grocery stores and the grocery industry operate.
Contrary to headlines that I've read proclaiming that Borders wants to "Beat Amazon and Walmart" at groceries are false. Borders stated to me "We are playing the long game." In other words, instead of trying to beat any specific company, Borders intends to outlast his competitors.
One final comment. I believe Albertsons would be wise to reach out to Louis Borders and ask him this question, Would you be interested in becoming our Ocado? Kroger has an exclusivity agreement with Ocado. If Albertsons and HDS collaborate, they can design and implement a leading-edge fulfillment and micro-fulfillment network. If Albertsons merges with Ahold-Delhaize (something I strongly recommend) the combined companies can be powered by technology from Borders (and AutoStore).
The Schmeling Effect
In the 1990s, Walmart was viewed as being unstoppable. When Amazon was founded and then began to make a name for itself, executives at Walmart openly dismissed Amazon as a threat. According to a Walmart senior executive I spoke with in 2012, "Nothing about Amazon made sense to us. Why would anyone want to shop online when they could easily drive to Walmart?"
In many ways, retail analysts and grocery executives appear to have the same point of view regarding Borders' HDS as Walmart had of Amazon. I recently had an executive from a large grocery retailer state to me, "Why would anyone order groceries from HDS when so many consumers are Prime members or only live a few miles from a Walmart or grocery store? You can orders groceries online from anyone these days."
I believe Borders will succeed because of what I refer to as 'The Schmeling Effect'.
In 1936, a 21 year-old boxer from Detroit named Joe Louis Barrow, but referred to as Joe Louis by the press, had amassed a record of 24 fights with 20 knockouts. The talent of young Mr. Louis was so great that none other than the writer Ernest Hemingway, himself a boxer and an ardent admirer of boxing, said this after witnessing Louis beat fellow heavyweight Buddy Baer "Too good to be true, and absolutely true . . . the most beautiful fighting machine that I have ever seen."
To state that Louis was considered the Champion in Waiting is an understatement. It was universally accepted within boxing that not only would Louis become champion, Louis was unbeatable.
A German fighter named Max Schmeling, the "Black Uhlan of the Rhine" as he was referred to by the press, was selected to become the next victim of Louis.
At age 29 and with a record of 49 wins, 7 defeats, and four draws, Schmeling was viewed as being a good fighter who stood no chance against the Great Joe Louis. The fight, or as some writers whispered under their breath, the massacre, was scheduled to take place on June 19, 1936 at Yankee Stadium.
Overlooked at the time was the fact that Schmeling wasn't playing the part of a victim. Instead, Schmeling was extremely confident and truly believed he would beat Louis. When asked by reporters why he, a 10-1 underdog, appeared to be so confident in the face of his impending execution at the fists of Louis, Schmeling replied "I see something."
What Schmeling saw was that contrary to what everyone was saying and writing about Louis, Louis in fact had a weakness. The weakness discovered by Schmeling was that Louis tended to drop his left hand during a fight and he often pulled his left hand back low after throwing a jab.
To Schmeling, this meant that Louis would be vulnerable to a counter right cross, something Schmeling possessed in his arsenal of punches.
As with many scenarios where everything is supposed to work perfectly without any chance of disruption to the inevitable, things did not go as planned for the "The Brown Bomber" Joe Louis.
When the fight took place it quickly became evident that Schmeling had indeed seen something, a flaw that could be exploited. Schmeling consistently tagged Louis with right hands throughout the fight. A knock down of Louis by Schmeling in round 4 was followed by a knockout of Louis in round 12. Shakespeare wouldn't have dared write such an ending. The invincible Joe Louis had not only been defeated, he had been knocked out by a 10-1 underdog.
Why will Louis Borders succeed? He sees something.